Everton are a professional soccer club based in Liverpool, England. They play in the Premier League – the top division of English soccer – and have won nine League titles throughout their 143-year history. 
The club play their home matches at Goodison Park, and have competed in the top-flight for a record 118 seasons since the formation of the English Football League. 
With a number of prominent players and a historic, long-standing rivalry with Merseyside neighbors Liverpool, Everton continue to play an important role in English soccer. 
This ultimate guide will take an in-depth look at Everton as a club, including a detailed timeline of their history, a list of their honors, and some of the club's most important records. Moreover, we'll also provide some information about Everton's stadium, their owners, managerial history, and much more.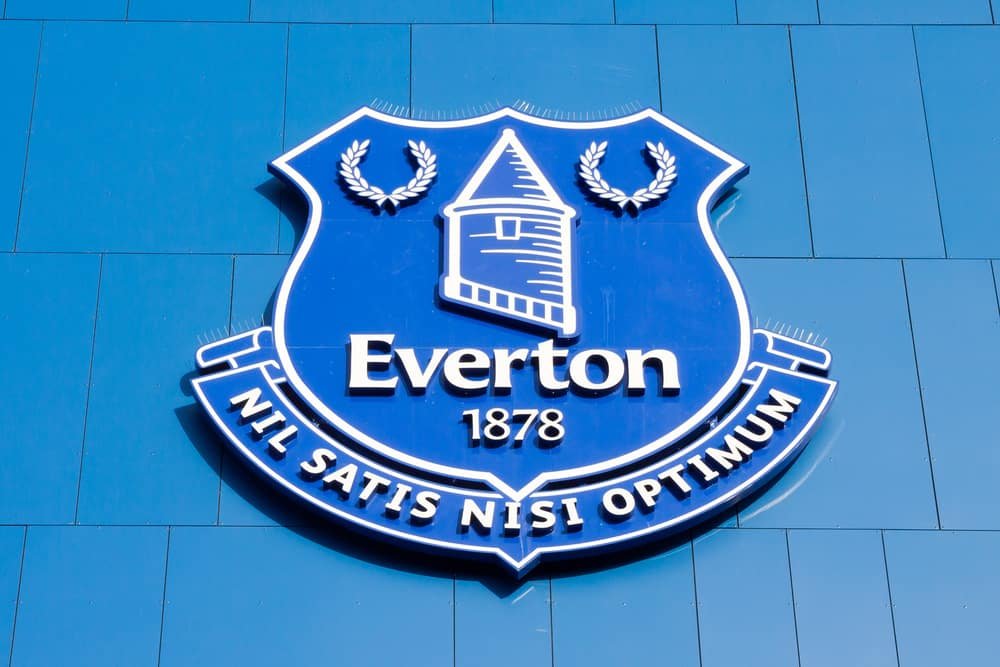 Basic Facts
Location: Liverpool, Merseyside 
Founded: 1878 
Ground: Goodison Park 
Nickname: The Blues, The Toffees 
Kit Color: Blue
Owner: Farhad Moshiri 
League: Premier League 
Current Manager: Rafael Benitez
Current Captain: Seamus Coleman 
Home Grounds
Everton first played their home matches in the southeast corner of Stanley Park, with the first official game taking place in 1879. Five years later, Everton became tenants at Anfield. 
However, after the price of using the stadium became too steep, Everton left Anfield and moved into a new ground, Goodison Park, where they've played ever since. Anfield would go on to become the famous home of Everton's Merseyside rivals, Liverpool. 
Goodison Park – which was the first major stadium to be built in England – opened in 1892 and has since staged more top-flight soccer games than any other soccer ground in the United Kingdom. Furthermore, it was also the first English stadium to install under-soil heating and the first to have two tiers on all sides. 
In a tradition going back nearly 60 years, players at Goodison Park walk out to the tune "Johnny Todd"  on match days. The tune is played in the arrangement used when it was the theme song for British television series Z-Cars.
Goodison Park currently has a capacity of 39,572, although the record attendance for a soccer match at the ground (before top-flight stadiums had to be converted to all-seater venues) is 78,299 against Liverpool on 18th September 1948. 
In terms of training facilities, Everton trained at Bellefield in the West Derby area of Liverpool from 1966 to 2007. The club now trains at the Finch Farm training complex in Halewood, which houses both the Everton first team and the club's youth academy. 
Main Trophies 
While Everton may not have as colorful a history as their Merseyside neighbors, they've still enjoyed some impressive success, including nine League titles, five FA Cups, and one European Cup Winners' Cup. 
Despite sustained periods of success in the 1930s and the mid-1980s, the club's most recent major trophy was the 1995 FA Cup, 26 years ago. 
Listed below is a full record of the main trophies Everton have won throughout their 143-year history. 
First Division / Premier League
Winners: 1890-91, 1914-15, 1927-28, 1931-32, 1938-39, 1962-63, 1969-70, 1984-85, 1986-87
Second Division / Championship
FA Cup
Winners: 1905-06, 1932-33, 1965-66, 1983-84, 1994-95
League Cup
Runners-Up: 1976-77,  1983-84
FA Charity Shield 
Winners: 1928, 1932, 1963, 1970, 1984, 1985, 1986 (shared), 1987, 1995
European Cup Winners' Cup
Club History And Timeline
Everton Football Club was founded in 1878 as St Domingo FC. The team consisted of members from the congregation of St Domingo Methodist New Connexion Chapel, with the club's first match a 1-0 victory over Everton Church Club. 
A year later, the club was renamed Everton after the local area. This name change was mainly due to the fact people outside the congregation wanted to participate. 
Early Years
Everton was a founding member of the Football League in 1888 and won their first League title shortly afterwards in the 1890-91 campaign. 
The beginning of the 20th century was successful for the club. They won their first FA Cup in 1906 and this success was followed by another League title in the 1914-15 season. 
Unfortunately, the outbreak of World War I interrupted the soccer schedule while Everton reigned, and it wasn't until the 1927-28 campaign that the club enjoyed the same level of success. 
Led by the prolific Dixie Dean – who set the record for top-flight league goals in a single season with 60 – Everton won their third League title.  
Despite relegation to the second tier of English soccer a couple of years later, Everton quickly bounced back. They earned promotion at the first attempt and won their fourth League title the following season. 
Buoyed by their league success, the club also won its second FA Cup in 1933. This hugely successful era for Everton ended in 1938-39 as the club won its fifth league title. 
Further Success
Following World War II, Everton were relegated for the second time in 1951. This time, however, they didn't immediately bounce back to the Second Division, and had to wait three years until they earned promotion. The club hasn't been relegated from the top-flight since. 
The club's second successful era all started when Harry Catterick was appointed manager in 1961. Just two years later, Everton won the League title, and in 1966 they secured their third FA Cup trophy. 
A seventh League title was won at the end of the 1969-70 campaign, marking a fantastic decade for the side. During the 1960s, Everton became the first English club to achieve five consecutive years in European competitions. This run spanned from 1961-62 to 1966-67. 
After a brilliant 1960s, Everton struggled throughout the majority of the 1970s with a number of underwhelming mid-table finishes. This was all to change, however, as Howard Kendall moved into the managerial hot-seat in 1981 and proceeded to lead the club to its most successful period. 
Everton won the FA Cup in 1984 and two League Championships in 1984-85 and 1986-87 – the latter being their last top-flight title to date. They also won their first, and so far only, European trophy in 1985 by securing the European Cup Winners' Cup. 
Having won both the league and Cup Winners' Cup in 1985, Everton came close to a historic treble, but lost the FA Cup final in the same season to Manchester United. 
Following the Heysel Stadium disaster, all English clubs were banned from European competition for five years. This meant that Everton lost the chance to compete for more European trophies, and as a result, many of their title-winning side left the club. In fact, even manager Howard Kendall departed the club after the 1986-87 title triumph.  
Premier League Years
Everton was a founding member of the Premier League in the competition's 1992 inception, however success was hard to come by initially. Other than an FA Cup triumph in 1995, the club struggled to find any kind of consistency and embarked on a managerial merry-go-round to try and achieve success. 
In David Moyes' first full season in charge during the 2002-03 campaign, Everton secured seventh place, their highest finish since 1996. Moyes held the position of manager for 11 years up until the end of the 2012-13 season and established Everton as a consistent top-half Premier League side. 
Since Moyes' exit, the club have maintained their position as a top-half team, although various high-profile managers such as Roberto Martinez, Ronald Koeman and Marco Silva have all struggled to achieve any kind of success despite promising starts. 
Club Net Worth 
Currently owned by businessman Farhad Moshiri – who has a majority stake of roughly 77.2% in the club – the estimated combined net worth of Everton Football Club is $2.9B. 
Owners
As mentioned above, Everton's current owner is Farhad Moshiri. The British-Iranian businessman is also the chairman and a shareholder of USM – a Russian holding company with interests in the metal and mining, telecoms, and internet sectors. 
Moshiri has a large stake in Everton, roughly 77.2%, and has been the club's majority owner since 2016. Prior to purchasing the Merseyside club, the businessman had a significant stake in fellow Premier League team Arsenal. 
Best Players
Since their formation 143 years ago, Everton have had a number of legendary players on their books. Listed below are 12 of the most prominent. 
Dixie Dean (1925-1937)
Striker
433 Appearances / 383 Goals 
Brian Labone (1958-1971)
Alan Ball (1966-1971)
Midfielder
254 Appearances / 80 Goals 
Bob Latchford (1974-1981)
Striker 
236 Appearances / 138 Goals 
Graeme Sharp (1980-1991) 
Striker
447 Appearances / 159 Goals 
Kevin Ratcliffe (1980-1992)
Neville Southall (1981-1997) 
Goalkeeper 
751 Appearances 
Kevin Sheedy (1982-1992)
Midfielder
369 Appearances / 67 Goals
Dave Watson (1986-1999) 
Defender
522 Appearances / 38 Goals 
Duncan Ferguson (1994-1998 & 2000-2006) 
Striker 
273 Appearances / 72 Goals 
Tim Cahill (2004-2012) 
Midfielder 
278 Appearances / 68 Goals 
Leighton Baines (2007-2020) 
Defender
420 Appearances / 39 Goals 
All Time Top Goalscorer
Everton's record goalscorer is Dixie Dean, who netted a total of 383 goals in 433 appearances for the club. Furthermore, Dean also holds the English national record of most goals in a single season with 60 during the 1927-28 campaign.  
Managers
The current manager of Everton is Rafael Benitez, who has been in the role since 30th June 2021. The Spaniard is the club's nineteenth permanent manager since the position was established in 1939. 
Prior to this date, the club didn't hire a "manager", with the team typically being selected by either the club secretary or the club committee. 
The longest-serving manager in the club's history is Harry Catterick, who took charge of 594 matches during his 12-year tenure (1961-1973). 
The most successful manager for Everton in terms of winning domestic and international trophies is Howard Kendall. During his first spell in charge of the club, Everton won the First Division title twice, one FA Cup, three FA Charity Shields, and the 1985 UEFA Cup Winners' Cup. 
Listed below are the 19 permanent managers that Everton have had since the position was officially introduced. 
Theo Kelly (1939-1948) 
Cliff Britton (1948-1956) 
Ian Buchan (1956-1958) 
Johnny Carey (1958-1961) 
Harry Catterick (1961-1973) 
Billy Bingham (1973-1977) 
Gordon Lee (1977-1981) 
Howard Kendall (1981-1987, 1990-1993 & 1997-1998) 
Colin Harvey (1987-1990) 
Mike Walker (1994) 
Joe Royle (1994-1997) 
Walter Smith (1998-2002) 
David Moyes (2002-2013) 
Roberto Martinez (2013-2016) 
Ronald Koeman (2016-2017) 
Sam Allardyce (2017-2018) 
Marco Silva (2018-2019) 
Carlo Ancelotti (2019-2021) 
Rafael Benitez (2021-present) 
Captains 
Everton have had almost 50 club captains in their history. The first was Nick Ross in 1888 and the current captain is Seamus Coleman.
Several famous names have worn the armband for the Merseyside club including the likes of Dixie Dean, Alan Ball, Howard Kendall, Dave Watson, and Duncan Ferguson. 
The longest-serving captain in Everton's history is Peter Farrell who led the side for nine years from 1948 to 1957. 
Listed below are the players who held the position of Everton club captain for longer than a season, and the time they wore the armband. 
Andrew Hannah (1889-1891) 
John Holt (1891-1893) 
Richard Boyle (1894-1896) 
Jack Taylor (1898-1900 & 1905-1908) 
Tom Booth (1901-1904) 
Jack Sharp (1908-1910) 
John Maconnachie (1911-1914) 
Hunter Hart (1922-1927) 
Warney Cresswell (1927-1929) 
Dixie Dean (1931-1937) 
Norman Greenhalgh (1946-1948)
Peter Farrell (1948-1957) 
TE Jones (1957-1961) 
Roy Vernon (1961-1965) 
Brian Labone (1965-1970) 
Howard Kendall (1972-1974) 
Roger Kenyon (1974-1976) 
Mick Lyons (1976-1882) 
Kevin Ratfcliffe (1984-1992) 
Dave Watson (1992-1997 & 1998-2001) 
Duncan Ferguson (2002-2004) 
Phil Neville (2007-2013) 
Phil Jagielka (2013-2019) 
Seamus Coleman (2019-present) 
Current Squad And Coaching Team 
Goalkeepers:
Jordan Pickford
Asmir Begovic
Joao Virginia 
Defenders:
Jonjoe Kenny
Mason Holgate
Michael Keane
Lucas Digne
Yerry Mina
Niels Nkounkou
Ben Godfrey 
Seamus Coleman
Jarrad Branthwaite
Midfielders: 
Allan
Fabian Delph
Gylfi Sigurdsson
Abdoulaye Doucoure 
Andre Gomes
Jean-Philippe Gbamin
Tom Davies
Alex Iwobi
Andros Townsend
James Rodriguez 
Anthony Gordon 
Forwards: 
Richarlison
Dominic Calvert-Lewin
Demarai Gray 
Moise Kean
Cenk Tosun 
First Team Manager: Rafael Benitez
First Team Assistant Manager: Duncan Ferguson 
First Team Assistant Manager: Francisco de Miguel Moreno 
First Team Coach And Senior Analyst: Antonio Gomez Perez
Head Of Sports Science: Jamie Harley 
Chief European Scout: Grétar Steinsson 
Goalkeeping Coach: Alan Kelly Jr. 
Under 23s Manager: David Unsworth 
Under 18s Manager: Paul Tait 
Professional Development Coach: Leighton Baines 
Director Of Football: Marcel Brands
Director Of Academy: David Unsworth 
Home And Away Kits 
Everton have traditionally played in royal blue shirts, white shorts and white socks as their home kit. However, it's worth noting that during the first decades of their history, Everton had several different kit colors. 
For example, when they moved to Goodison Park in 1892, their home colors were salmon pink and dark blue striped shirts with dark blue shorts. Royal blue jerseys with white shorts were first worn in the 1901-02 season. 
The club's traditional away colors were often white shirts with black shorts. However, from 1968, amber jerseys and royal blue shorts became the common color combination. Various editions have been used since, including black, gray, and yellow shirts. 
Crest
At the conclusion of the 1937-38 campaign, club secretary Theo Kelly proposed the idea of designing a club necktie. It was agreed that the primary color would be blue, but it was up to Kelly to design a crest to be featured on the necktie. 
Kelly eventually decided on a reproduction of Everton Lock-Up, which stands proudly in the heart of the Everton district. This Lock-Up design was accompanied by two laurel wreaths on either side to symbolize winning. Also accompanying the design was the club motto, 'Nil Satis Nisi Optimum', which translates to 'nothing but the best is good enough'.
The ties were worn by Kelly and the Everton chairman, Mr. E Green, on the opening day of the 1937-38 season. 
In May 2013, Everton launched a new crest to improve the transferability of the design in broadcast and print media. This redesign, however, was met with criticism from the club's supporters, with one particular poll on a fan site registering a 91% negative response to the crest.
A petition was subsequently signed by tens of thousands of supporters in protest, and the club soon offered an apology and announced that a new crest would be created for the 2014-15 season. 
Three new crests were produced for a shortlist, with the final crest chosen by almost 80% of the supporters that took part in the vote. Everton started to use this new crest in July 2014.
Rivalries 
Everton's biggest rivalry is with Merseyside neighbors Liverpool. The two clubs compete in the hotly contested Merseyside derby, with the match seeing more red cards than any other fixture in Premier League history. 
The rivalry between Everton and Liverpool stems from a dispute between Everton officials and the owners of Anfield. This dispute resulted in Everton moving from Anfield to Goodison Park and the subsequent formation of Liverpool F.C. in 1892. The two grounds are located just under a mile from one another. 
While the rivalry is fierce on the pitch, it's one that is generally considered a little more respectful than many other derbies in English soccer. This was demonstrated when a chain of red and blue scarves were linked between the gates of both grounds as a tribute to the Liverpool supporters tragically killed in the Hillsborough disaster. 
Fun Facts And Records 
The player with the most appearances for the club is Neville Southall, who racked up a total of 751 first-team appearances in his 16-year stint with the club between 1981 and 1997
The club's record transfer was the $62 million paid to Swansea City for Gylfi Sigurdsson in 2017 
Everton's longest-serving player is Ted Sagar, who played for a total of 23 years between 1929 and 1953 
The club's record goalscorer Dixie Dean also hold the English national record of most goals in a single season with 60 
The largest transfer fee Everton have received for one of their players was the $100 million Manchester United paid for Romelu Lukaku in 2017
Everton are one of six teams to have played in every season of the Premier League since its inception in 1992 
The youngest goalscorer for the club is James Vaughan, who was just 16 years and 271 days old when netting against Crystal Palace in 2005 
Everton vs Aston Villa is the most played fixture in English top-flight history (both Division One and Premier League)