Aston Villa is an English professional soccer team based in an area called Aston within the city of Birmingham. The club currently competes in the top tier of English soccer, the Premier League, and they are considered to be one of the oldest soccer clubs in Britain.
Aston Villa was also a founding member of the Football League in 1888, and also the Premier League in 1992. 
If you're interested in the rich history of Aston Villa soccer club and want to find out more about the club's former and current team, then continue reading this article. 
Basic Facts
Location of Aston Villa: Aston, Birmingham (West Midlands)
Founded: 1874
Nickname: The Villains, The Villa, The Lions
Ground: Villa Park 
Ground Capacity: 42,749
Club Colors: Claret and blue
Owner: Wes Edens & Nassef Sawiris
League: Premier League
Current Manager: Dean Smith 
Current Club Captain: Rumoured to be Tyrone Mings after the departure of former captain, Jack Grealish
Home Grounds
Back in the early days, Aston Villa played at an array of venues including Wilson Road, Aston Park, Lower Aston Grounds Meadow, Perry Barr (or Wellington Road) and finally moving on to their permanent and current home at Villa Park.
Villa's former ground, Wellington Road located in the area of Perry Barr opened in 1876 and initially had no formal spectator facilities and players would have to change into their kits in the blacksmith's shed near to the ground. As excitement around the club grew, a formal grandstand was built along with two pavilions for soccer fans to view the game. 
Main Trophies
European Cup (Champions League)
Aston Villa's most famous triumph would be winning the European Cup (now known as the Champions League) back in 1982 against Bayern Munich.
The final that was played in Rotterdam only featured one goal, scored by Villa striker Peter Withe but is mostly remembered for the incredible performance from the young English goalie who stepped in for injured first-choice keeper Jimmy Rimmer. 
European Super Cup
As a result of winning the European Cup, Villa would then go on to play and win in the European Super Cup against Barcelona which took place over two legs. Villa lost the first leg at the Nou Camp 1-0 but came back in the second leg to beat Barcelona 3-1 on aggregate. 
FA Cup
They have won the FA Cup 7 times, the first time was in 1887 and the most recent win was in 1957. They have been runner's up in the FA Cup 4 times, most notably in 2015 when they lost to Arsenal at Wembley Stadium.
Football League Cup (EFL Cup)
Aston Villa has won the EFL Cup 5 times, first in 1961 and the most recent win was in 1996. They have also been 4 times runners-up in this tournament, most recently in 2020 when they lost to Manchester City. 
League Champions
Aston Villa was crowned champions of the First Division in 1894, 1896, 1899, 1900, 1910, and 1981, however, since the formation of the Premier League, Aston Villa has only come as close as being a runner up in their battle for the league title.  
Villa also won the Football League War Cup back in 1944 along with Charlton Athletic. The Football League War Cup only took place between the years 1939 and 1945 and sought to stand in the place of the FA Cup as it had been canceled due to the war. 
Club History
Aston Villa was founded by 4 cricket players in 1884 that were associated with the local chapel.
In 1888, along with 11 other English soccer clubs, Villa founded the Football League. With the help of manager George Ramsey, Villa dominated the Victorian era, winning a handful of First Division titles and FA Cup trophies before 1900.
Aston Villa finally experienced a decline in their success and was relegated to the Second Division in 1936 and then the Third Division in 1970. However, after the appointment of Ron Saunders, Villa's success was on the up again, winning the League Cup in 1975 and then also going on to win their only European Cup in 1981.
Aston Villa spent 29 rollercoaster years in the Premier League before being relegated to the Championship in 2016. They returned to the Premier League again in 2019 after a successful season under Dean Smith but narrowly avoided relegation by managing to stay up on the final day of the season.
Club Timeline
Here is a timeline of the main events and achievements that have happened at Aston Villa.
1874 – Aston Villa is established by four men through the Aston Villa Wesleyan Chapel 
1878 – The lion badge and 'prepared' motto is introduced by the chairman
1887 – Aston Villa win the FA Cup for the first time 
1887 – The grandstand opens at Villa's Wellington Road ground
1888 – Their club colors are established as claret and blue
1893 – Villa win the FA Cup for the second time 
1894 – Aston Villa are crowned league champions for the first time
1897 – Villa Park opens and hosts its first match against Blackburn Rovers
1961 – Wins their first league cup title 
1982 – Villa win the European Cup by beating Bayern Munich 1-0
1982 – They win the European Super Cup by beating Barcelona
2006 – American investor Randy Lerner buys Aston Villa
2016 – Villa is acquired by Chinese businessman Tony Xia
2018 – Wes Edens and Nassef Sawiris buy the club from Tony Xia
2021 – Villa make a club-record signing by paying over $35 million for Emiliano Buendia
2021 – They break the British record sale fee by selling star player Jack Grealish for over $100 million
Club Net Worth
The estimated combined net worth of the Aston Villa owner's Wesley Edens and  Nassef Sawiris is said to be around $10.4 billion, however, they were said to have paid nearly $80 million to buy 55% of the club back in 2018.
The owners have invested over $250 million into Aston Villa since their takeover in 2018, helping to keep the club afloat, remain debt-free, buy new players and also expand the club to help it hold on to its position in the Premier League. 
Aston Villa's owners are currently considered to be one of the five wealthiest Premier League club owners at this moment in time, so it's safe to say that the club is in good hands. 
The value of the current playing squad at Aston Villa is estimated to be over around $200, however, this will have increased thanks to the recent sale of their most expensive player Jack Grealish who signed a six-year deal worth $100 million with title holder's Manchester City. 
Aston Villa's players are the most valuable assets of the club and make up a majority of the club's current net worth. 
Stadium
Villa Park is built on the former mid-Victorian Aston Lower Grounds amusement park and has the potential to hold a capacity of 42,749 spectators.
The club currently has plans to extend the north stand of the stadium which will then take the capacity up to 51,000, which will just take it shy of Newcastle United's St. James Park, which currently has a capacity of 52,000. 
Villa Park is the largest soccer ground in the English Midlands and stands as the 8th largest soccer stadium within England at this moment.
The ground is the first one in England to host international soccer across 3 different centuries (1899-2005). The ground has hosted 55 FA-Cup semi-finals and is the most used soccer ground in the history of FA-Cup semi-finals.
Villa Park is made up of 4 stands, The Holte End located at the south stand, The Trinity Road stand located to the west, the Doug Ellis stand to the east, and then the North Stand behind the northern goal end. 
Before 1914, Villa Park could be seen with a cycling track around the perimeter of the pitch as they hosted regular cycling events as well as athletic events.
Nowadays, aside from soccer matches, the ground hosts a variety of events including conferences, music concerts, boxing matches, and also rugby. 
Aside from their prominent stadium, Aston Villa also have a dedicated training ground located at Bodymoor Heath near Kingsbury, a 20-minute drive away from Villa Park.
The facilities at the training ground went through a re-development process that was finally unveiled in 2007 after having spent nearly $18 million.
Owners
The first owner and chairman of Aston Villa were Doug Ellis who reigned at Villa until Cleveland Browns owner Randy Lerner took over in 2006 after buying the club for over $60 million.
In June 2016, Chinese businessman Tony Xia bought the club for over $76 million, however, problems started to emerge after a couple of years when he struggled to move money out of China to maintain operations at Villa.
The club is currently owned by Nassef Sawiris and Wes Edens who bought the club back in 2019. 
Best Players
If you were to ask the fans outside Villa Park who their best players have been, you'd probably get an array of answers. However, we've compiled a list of some of Villa's best players since their formation in 1884. 
Martin Laursen (2004-2009)
Gareth Barry (1997-2009)
Olof Mellberg (2001-2008)
Ashley Young (2007-2011)
Juan Pablo Angel (2001-2007)
Gabriel (Gabby) Abgbonlahor (2005-2018)
Dion Dublin (1998-2004)
Peter McParland (1952-1962)
Allan Evans (1977-1989)
Paul McGrath (1989-1996)
Dwight Yorke (1990-1998)
Billy Walker (1919-1933)
Johnny Dixon (1945-1961)
All-Time Top Scorer
The all-time top goal scorer for Villa is Billy Walker who scored 244 goals for the club during his time at the club between 1919 and 1933. Billy scored 214 league goals and 30 goals in FA Cup games for Villa. 
Back in the 1899 – 1990 season, Villa forward Billy Garraty became the top goal scorer in the world by scoring 27 goals in 33 games and a total of 30 goals within 39 league and cup games.
Tom 'Pongo' Waring holds the title for the most goals scored in a season and most league goals in a season which he achieved during the 1930-31 season. 
Goalkeepers
One of Aston Villa's famous goalkeepers (although many few will remember him) was Nigel Spink after he replaced the injured first-team goalkeeper in the European Cup Final against Bayern Munich and made some historic saves to help them win the game. 
Another villa great, is Mark Bosnich, an Australian goalkeeper who made 179 appearances for Villa between 1992-99 and was the best in the league during his day.
Aston Villa was also graced with the presence of Premier League legend Peter Schmeicle in a Villa shirt when made 29 appearances for the club and scored 1 goal during his 1-year stint. 
Villa fans will also sing the praises of former goalkeepers, Jimmy Rimmer, Nigel Sims, Shay Given, and Brad Friedel for their dedication to their role at the club. 
Defenders
Aston Villa has been lucky enough to have some quality defenders including the likes of Martin Laursen, Mark Delaney, Charlie Aitken, and Paul McGrath, all of which contributed hugely during their time at Villa. 
Nowadays, the likes of Tyrone Mings, Ezri Konsa Ngoyo, Matty Cash, and Matty Targett are dominating the Villa backline. 
Strikers
Below are the highest-scoring Aston Villa strikers:
Billy Walker – 244 goals
Thomas 'Pongo' Waring – 159 goals 
Johnny Dixon – 144 goals
Peter McParland – 121 goals
Dwight Yorke – 98 goals
Gabriel Agbonlahor – 87 goals
Andy Gray – 78 goals
Peter Withe – 74 goals
A more recent notable striker of Aston Villa is Christian Benteke who spent 3 years at the club and scored 42 goals during his time there.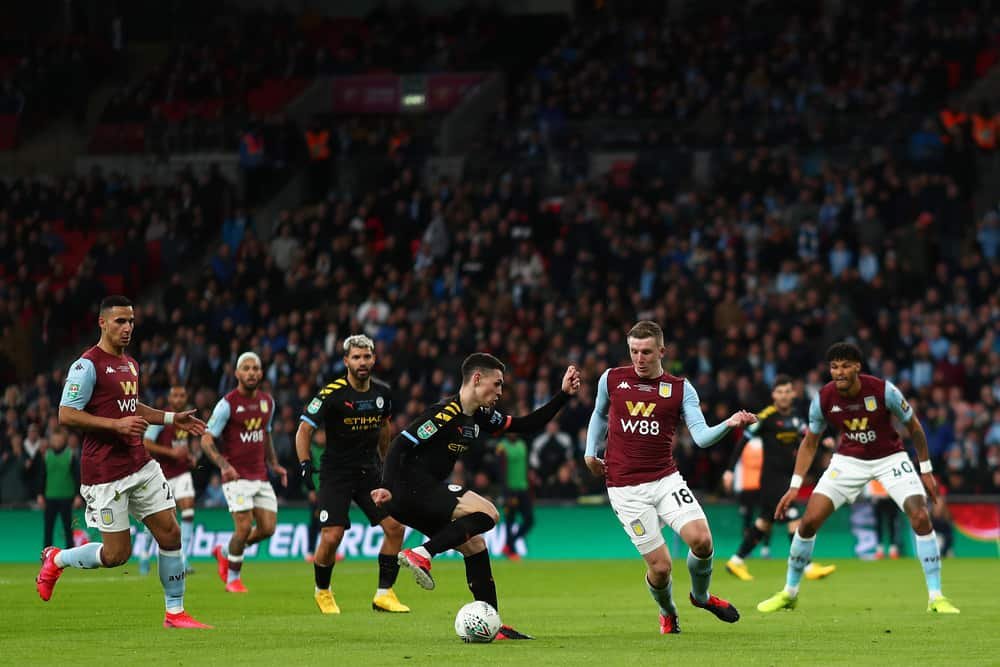 Managers
Since the formation of the club in 1874, Aston Villa has had 32 managers, however, this does not take into account any caretaker or interim managers of the club.
The longest-serving manager of Aston Villa was George Ramsey who stayed with the club between 1884 to 1926, taking charge of 1327. Ramsey also stands as Villa's most successful manager, winning 6 league championships and 6 FA Cups during his 42-year stint at the club. 
Another manager Tony Barton, considered one of Villa's greats, led them to win the European Cup (Champions League) and the European Super Cup in 1982 after only 3 months of taking charge of the club. 
One notable manager was Jozef Venglos, who was appointed Villa manager in 1990 and was the first manager not from Britain to take charge of a top-flight club in England. 
The current manager/head coach at Aston Villa is Dean Smith, who took over in 2018. He managed to return Aston Villa to the Premier League after their short stint in the league below when they defeated Derby County in the EFL Championship Play-off final. 
A list of Aston Villa's most notable managers:
George Ramsey (1884-1926)
Jimmy Hogan (1936-1939)
Eric Houghton (1953-1958)
Joe Mercer (1958-1964)
Ron Saunders (1974-1982)
Tony Barton (1982-1984)
Jozef Venglos (1990-1991)
Ron Atkinson (1991-1994)
Brian Little (1994-1998)
John Gregory (1998-2002)
Dean Smith (2018 – Present) 
Coach
The current head coach of Aston Villa soccer club is Dean Smith, who has held the position since 2018. 
Assistant Coach
Alongside Dean Smith, are the two assistant head coaches Richard O'Kelly and Craig Shakespeare 
Home Kit
The Villa home kit may change in design every year depending on their current sponsor, however, their club colors always remain the same. Their home kit is predominantly made up of the claret color, with light blue sleeves or trimming around the collar or the neckline. The shirt is accompanied by white shorts that display the AVFC logo and then long soccer socks that are made up of two main colors – claret and light blue.
Away Kit
The away kit not only changes in design most years but also colors, depending on what the sponsor and the club can agree on. Over the years, Villa's away kits have varied from black, white but always contain hints of their signature colors claret and light blue. 
Depending on who they are playing against, Villa may also wear their third kit to not clash with the colors of the opposition's kit. 
Logo
The club crest of Aston Villa is famed for the yellow lion in the center which symbolizes the club's values – bravery, strength, and resilience. The main colors for the Aston Villa logo are claret red, light blue, yellow (the lion) and a small hint of white for the star. 
The club logo was also adapted to include a star in the top right of the badge which represents the club's European Cup win in 1982. 
On previous badges, the crest displayed 'Aston Villa' but the more modern adapted badge has been shortened to 'AVFC'. In previous logos, the club also had its motto 'prepared' engraved on the lower part of the crescent which was a traditional motto for Aston Villa for years. 
Club Academy 
The Aston Villa academy is the youth development side of Premier League club Aston Villa and has under 23's, under 18's, and academy teams throughout the club. In 2021, there was an illness outbreak amongst the first team players and they were unable to play against Liverpool in the FA Cup 3rd round. So instead, the youth team at Villa were used and unfortunately lost 4-1, despite a goal from the then Villa youngster Louie Barry.
The current academy manager is Mark Harrison who is then assisted by lead coaches Mark Delaney and Sean Verity, along with academy coaches Mike Scott and Tom Evans. 
One of Villa's most notable prodigies that have come through the academy is Jack Grealish, who joined the club at the young age of 6 and rose through the academy to then make his first-team debut for Villa in 2014.
Grealish is a lifelong Villa fan and fans came to adore him during his years at Villa. Villa club captain Jack even signed a 5-year deal which would extend his contract at Villa to 2025, however, in the summer of 2021, Manchester City bought Grealish for a British club-record fee of $100 million which would keep him at the Mancunian club until 2027. 
Some other noteworthy players who came through the ranks at Aston Villa are Gary Cahill, Daniel Sturridge, Gareth Barry, and Gabriel Agbonlahor who all eventually left and went on to play for some of the Premier League's best clubs like Liverpool, Manchester City, Chelsea, and Everton. 
League Titles
First Division (1888-1992) Titles: 7
Premier League (1992- Present) Titles : 0 
Championship Titles: 0
Other Titles
They won the FA Charity Shield in 1981 after defeating Tottenham Hotspur. 
Aston Villa were the winners of the 2001 Intertoto Cup alongside PSG and Troyees. 
Fun Facts
Another soccer club that was also founded in 1874 was northern side Bolton Wanderers FC
Aston Villa was the first top-tier soccer club to hire a manager from outside of the UK when they appointed Jozef Venglos in 1990
Aston Villa's mascot is a lion called Hercules
Villa have had more England international players than any other club