Spezia Calcio, also known simply as Spezia, is based in La Spezia, Liguria Italy. For the first time ever, this football team has reached Serie A. They made the leap in the 2020 – 2021 season after a spectacular game worthy of the promotion.
Founded in 1906, Spezia has had a long time at the bottom of the league system, often stuck on the fourth and third levels. This breakaway moment of reaching Serie A is one that this club will remember for its lifetime!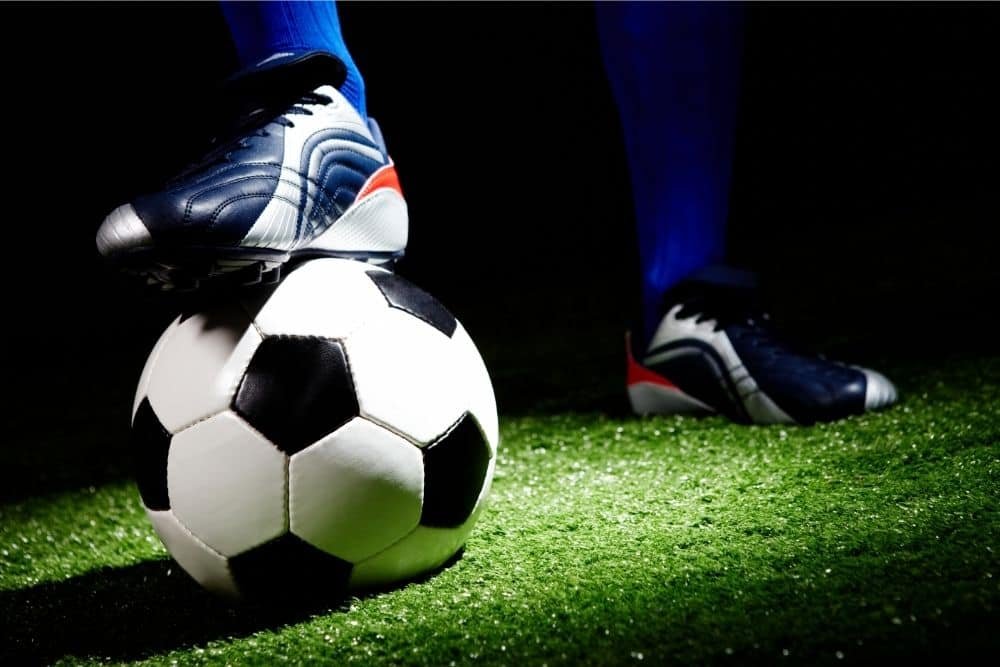 Basic Facts
Despite playing at the bottom of the overall league, Spezia has not been hanging out. They have claimed the winning spot in many of the level 4, and level 3 competitions and so know what it feels like to hold a trophy!
Before we get into the details of their victories, have a look at some basic facts about this slow speeding champion club:
Full Name: Spezia Calcio
Nickname(s):

Aquilotti (Little Eagles)
Aquile (Eagles)
Spezia
Bianconeri (Black and Whites)

Founded: 10 October 1906
Ground: Stadio Alberto Picco
Capacity: 10,336
Owner: Robert Platek
Chairman: Stefano Chisoli
Manager: Thiago Motta
League: Serie A
Website: Club Website
Home Grounds
Spezia's home ground is the beautiful capital city of the province, La Spezia. In the northern part of Italy, La Spezia can be found at the head of the gulf.
It is the second largest city in the Liguria region and is one of the main Italian military harbors. Their army isn't the only waters on their seas, though, as commercial traders often park up on their docks too.
Despite all of the shipments and navy presents, La Spezia is mostly known for its seaside resorts, historical railway junction, notable museums, and rowing races.
After the fall of the Republic of Genoa in 1797, La Spezia grew and developed as a city. They took inspiration from Liguria, which you can see throughout the urban landscapes today. 
Main Trophies
Spezia's main trophies have been hard earned, but only one has been repeated.
The Italienischer Pokalsieger Serie C trophy was won in the 2004 – 2005 season and again in the 2011 – 2012 season. It is the only trophy they have achieved twice, and although a hat-trick might sound grand, they have eyes on a bigger prize now.
The first ever trophy that Spezia ever won was the Scudetto Serie D. In the 1957 – 1958 season, they snatched it out of their opponent's hand but haven't been able to touch it since. 
Spezia has won an A league trophy but not for Serie A. In the 2005 – 2006 season, Spezia brought home the Italian Lega Pro Champion trophy.
The most recent trophy that Spezia has won is the Italian Lega Pro Champion B. They locked down this win in the 2011 – 2012 season.
Club History
Spezia was founded in 1906 but only joined the league of football in 1917. They joined in the 4th division for Promozione Ligure.
In 1926, they received their first win while playing in the Seconda Divisione and so were promoted to Prima Division which was the second highest level in Italian football at the time.
In 1929, Spezia was dealt a bad hand as they won the Prima Divisione, but the league was being shuffled.
In the end, it was demoted to become the Third Division in this new league, which means that Spezia stayed at the second level. We now know that level to be Serie B.
Moving on to post World War 2, Spezia returned from the war still in Serie B, but when the 1950 – 1951 season came around, they rapidly fell through the division and were relegated three seasons in a row.
In 1958 they managed to pull back into Seric C, but this was the start of their dance between third and fourth place divisions.
In 2008 the world fell into a financial crisis, and as with any worldwide problem, Spezia took a big hit. They were forced to declare bankruptcy after being relegated from Serie B.
It wasn't until 2011 that the Italian Football Federation was able to prove that Spezia's former board members committed fraud and caused the avoidable financial terminal the team went through.
The Italian Football Federation sanctioned these former members for their crimes.
Gabriele Volpi refounded the club in 2008 and named it A.S.D Spezia Calcio 2008, and it started off back in Serie D.
After one season, the team decided to go back to its original name of Spezia Calcio, and almost as if the original players were spurring them on, they managed to qualify for the Lega Pro Seconda Division.
Club Timeline
| | | | |
| --- | --- | --- | --- |
| Season | Division | Tier | Position |
| 1975–76 | Serie C (Group B) | III | 13th |
| 1976–77 | Serie C (Group B) | III | 3rd |
| 1977–78 | Serie C (Group B) | III | 7th |
| 1978-79 | Serie C1 (Group A) | III | 17th ↓ |
| 1979–80 | Serie C2 (Group A) | IV | 3rd ↑ |
| 1980-81 | Serie C1 (Group A) | III | 17th ↓ |
| 1981–82 | Serie C2 (Group A) | IV | 10th |
| 1982–83 | Serie C2 (Group A) | IV | 16th |
| 1983–84 | Serie C2 (Group A) | IV | 14th |
| 1984–85 | Serie C2 (Group A) | IV | 13th |
| 1985–86 | Serie C2 (Group A) | IV | 2nd ↑ |
| 1986–97 | Serie C1 (Group A) | III | 12th |
| 1987–88 | Serie C1 (Group A) | III | 6th |
| 1988–89 | Serie C1 (Group A) | III | 3rd |
| 1989–90 | Serie C1 (Group A) | III | 12th |
| 1990–91 | Serie C1 (Group A) | III | 6th |
| 1991–92 | Serie C1 (Group A) | III | 8th |
| 1992–93 | Serie C1 (Group A) | III | 15th |
| 1993–94 | Serie C1 (Group A) | III | 16th |
| 1994–95 | Serie C1 (Group A) | III | 8th |
| 1995–96 | Serie C1 (Group A) | III | 15th |
| 1996–97 | Serie C1 (Group A) | III | 18th ↓ |
| 1997–98 | Serie C2 (Group B) | IV | 5th |
| 1998–99 | Serie C2 (Group A) | IV | 5th |
| 1999–00 | Serie C2 (Group A) | IV | 1st ↑ |
| 2000–01 | Serie C1 (Group A) | III | 5th |
| 2001–02 | Serie C1 (Group A) | III | 2nd |
| 2002–03 | Serie C1 (Group A) | III | 6th |
| 2003–04 | Serie C1 (Group A) | III | 6th |
| 2004–05 | Serie C1(Group A) | III | 7th |
| 2005–06 | Serie C1 (Group A) | III | 1st ↑ |
| 2006–07 | Serie B | II | 19th |
| 2007–08 | Serie B | II | 21st ↓ |
| 2008–09 | Serie D (Group A) | V | 2nd ↑ |
| 2009–10 | Lega Pro Seconda Divisione (Group A) | IV | 2nd ↑ |
| 2010–11 | Lega Pro Prima Divisione (Group A) | III | 6th |
| 2011-12 | Lega Pro Prima Divisione (Group B) | III | 1st ↑ |
| 2012–13 | Serie B | II | 13th |
| 2013–14 | Serie B | II | 8th |
| 2014–15 | Serie B | II | 5th |
| 2015–16 | Serie B | II | 7th |
| 2016–17 | Serie B | II | 8th |
| 2017–18 | Serie B | II | 10th |
| 2018–19 | Serie B | II | 6th |
| 2019-20 | Serie B | II | 3rd ↑ |
| 2020–21 | Serie A | I | 15th |
Club Net Worth
Spezia's current market value is £43.45m. That translates to US$59.8m and €51.05m. 
This was accurate in August 2021, when Spezia's squad size was 24, they had an average age of 24.3, and their current transfer record was £-5.22m. That translates to €-6.13m and US$-7.18m.
Stadium
Stadio Alberto Picco was built in a rush when Spezia unexpectedly broke through to their first league season. It was erected in 1919 but wasn't finished in time.
Although it officially opened on 7 December 1919 to host the Spezia and Genova match, the stadium only had wooden stands. Despite the airy location, Spezia won that first match 8 – 0.
The name "Alberto Picco" was dedicated to the former Spezia player who died in the First World War at the age of 19. He didn't manage to see his team reach the league, but his name will never be forgotten.
It took the club 14 years to replace the wooden stalls and build a concrete stand. The Stadium was finally completed in 1933
Owners
Robert Platek made a splash in the news when it was announced that he successfully purchased Spezia Calcio. This is because a lot of wealthy Americans, like Platek, seem to be taking on this challenge in recent years. Platek is an American financier from New York.
Gabriele Volpi owned the club beforehand and sold it to the Platek family after he steered them into their first ever Serie A season. 
Platek is a partner in the private equity firm MSD Capital which has managed the Dell family fortune since 1998. During 2021, MSD Capital had become very active in football by lending money to Derby County, Southampton, Sunderland, and Brunet. All of which are UK based football clubs.
The Platek family have stated that investing in Spezia was a personal decision and not to do with the company. But it is hard to ignore the connection the two have created.
Best Players
Spezia's best players are Simone Bastoni, M'Bala Nzola and Leonardo de Souza Sena. 
Simone Bastoni is the 5th best player in the whole of Serie A for assists via set play. He is the 18th best player for assists in general and the 31st best player for assistants outside the box. When it comes to freekicks, Bastoni is the 41st best player in Serie A.
Leonardo de Souza Sena has completed 90% of his passes into the final 3rd. He has made 609 passes in total, 4 aerial duels on the opponent's half and 5 aerial duels in his own half.
M'Bala Nzola is Spezia's current top scorer, having netted 11 goals for the team.
All Time Top Scorer
Spezia's all time top scorer was Massimiliano Guidetti. Guidetti made 141 appearances for Spezia and scored a total of 58 times for the team.
The second best scorer of all time for Spezia was Giovanni Pisano. He made just 60 appearances for the team but scored a total of 33 goals. If we were looking at goals per match, Pisano would be the best!
Captain
Spezia's current captain is Emmanuel Gyasi. He was handed the armband for the first time during their game against Bologna in their first game in Serie A. 
The new captain almost led his team to victory, but it resulted in an equalizer creating a thrilling 2 – 2 draw.
Goalkeepers
Spezia currently has 4 goalkeepers. They are Ivan Provedel, Jeroen Zoet, Titas Krapikas and Petra Zovko.
Ivan Provedel's contract's end date is in June 2022. His current market value is £2.25m. That translates into US$3.44m and €2.94m.
Jeroen Zoet's contract's end date is also June 2022. His current market value is £1.8m. That translates to €2.11m and US$2.48m.
Titas Krapikas's contract's end date is another June 2022 bookmark. His current market value is £270,000. That translates to US$371,611 and €317,202.
Petra Zovko has the longest contract, which is due to end in June 2024. He also has the lowest market value, coming in at £68,000.  That translates to  €79,888 and US$93,589.
Defenders
Spezia currently has 11 defenders; they are Kelvin Amian Adou, Salvador Ferrer, Jacopo Sala, Luca Vignali, Simone Bastoni, Nicolo Bertola, Elio Capradossi, Julian Chabot, Martin Elric, Petko Hristov, and Dimitrios Nikolaou,
Strikers
Spezia currently has 6 strikers; they are Emmanuel Gyasi, Daniele Verde, Diego Farias, Andrej Galabino, Samuel Mraz, and Mbala N'Zola.
Managers
Spezia's current manager is Thiago Motta. He has only been managing since 2018, and his beginning team was Pair Saint-Germain U9. in 2019, he moved on to Genoa, and then in 2021, he reached Spezia.
Coach
Thiago Motta spent his early career as a footballer in midfield. He often found himself injured during the first couple of years.
After two and a half seasons with Inter Milan, Motta joined Paris Saint-Germain for their 27th major win in 2012.
When it comes to coaching, Motta has said that he wants to revolutionize football with a 4-3-3 formation. He said:
Assistant Coach
Spezia's assistant coach is Alexandre Hugeux. Spezia is the only club he has been known to manage and has not played professionally before. Despite the lack of history, Spezia was appointed assistant coach in July 2021 and is contracted to stay until June 2024.
Home Kit
Spezia's kits are heavily advertised. The home kit is white with a large knife, fork, and dinner plate on the chest. The dinner plate has the word "TEN" written in the center, with a chili drooped at the side. Under the cutlery, there are more words, this time it says "Food & Beverage." Inspiring. 
The shoulders have a black outline, but there is no other significant feature.
Away Kit
The away kit is exactly the same as the home, however, the background is black, and the dishware is white. 
The collar tries to add some flare with a neon yellow cuff.
Logo
The Spezia logo is in the shape of a ball. The furthest outline is gold. The following outline is black. The biggest outline which comes next in the pattern is white.
At the top of the white outline is the team name "Spezia," and at the bottom is its founding date, "1906". Then there is another black outline and another white outline. Lastly, there is a black bullseye with the letters "A," "S," and "C" mixed together in a clever design. 
Club Academy
Spezia academy aims to promote amateur clubs that hope to climb the ranks like they have. Their project plans to show technical skills to the kids they teach and to give education growth from the instructors. The three key values they also proudly declare are passion, fun, and respect.
League Titles
Divisione Nazionale (Level 1)
Winner – 1944 (Honorary Win)
Prima Divisione (Level 2)
Winner – 1944  – 1928 – 1929
Seconda Divisione (Level 2)
Promozione (Level 2)
Serie C (Level 3)
Winner – 1935 – 1936
Runners-Up – 2001 – 2002
Winner – 2005-  2006
Winner – 2011 – 2012
Serie C2 (Level 4)
Runners-Up – 1979 – 1980
Runners-Up – 1985 – 1986
Winners – 1999 – 2000
Runners-Up – 2009 – 2010
IV Serie (Level 4)
Runners-Up – 1955 – 1956
Winner – 1957 – 1958
Serie D (Level 4)
Winner – 1965 – 1966
Runners-Up – 2008-2009
Serie B (Level 2)
Other Title
Supercoppa di Serie C
Winner – 2006
Winner – 2012
Coppa Italia Serie C
Winner – 2004 – 2005
Winner – 2011 – 2012
Scudetto Serie D
Coppa Ottorino Mattei
Fun Facts
Like many Italian football clubs, Spezia's fans sing Oh Bella to cheer on the players. This is Spezia's version in the original Italian and translated into English.
Italian Spezia – Oh Bella
Hanno detto che Roma è L'eterna,
Che Venezia è regina dei Mar,
Che Firenze è più bella di Un fiore,
Che Milano l'è grande Milan,
Ma stasera vi presenteremo La nostra graziosa,
Stupenda città,
O bella speza splendida Perla sul mar,
Della riviera quadro irreal,
Magico cielo pinto di mille Color,
E la sul mar l'onda che Muor sulla scogliera,
Al forestier sa mormorar Ritorna in questa città,
La la la ecc…
Portovenere han detto i Poeti,
È una gemma di grande Valor,
Hanno detto che Lerici è un Fiore,
È preziosa e più rara dell'or,
Questo golfo che è proprio Un incanto è stato dipinto,,
Da un grande pittore…
O bella Speza splendida Perla sul mar,
Della riviera quadro irreal,
Non sei l'eterna non sei Regina dei mar,
Ma in tutti i cuor tu sai Donar la primavera,
Non sei Milan non sei Paris Ma noi ti amiamo così,
La la la la la la…
English Spezia – Oh Bella
They said that Rome is the Eternal,
That Venice is the queen of The marks,
Florence is more beautiful Than a flower,
What is the Milan giants AC Milan,
But tonight we will present Our gracious,
Beautiful city,
O beautiful speza splendid Pearl on Tue,
Irreal part of the coast,
Magic sky of a thousand Colored pinto,
And on the sea wave that Dies on the reef,
Forestier to know murmur Returns to this city,
La la la … etc.
Portovenere poets have Said,
Is a gem of great worth,
They said Lerici is a flower,
Is precious and rarest of The OR,
This gulf is just a delight it Was painted,
From a great painter.
O beautiful Speza splendid Pearl on Tue,
Irreal part of the coast,
You're not the eternal Queen of the marks are Not,
But in all the hearts you Know donar spring,
You are not Paris but Milan Are not we love you so,
La la la la la la …