In the 1980s and 90s, the Italian domestic league was host to some of the greatest soccer in the world. Serie A was packed with the best teams around, with players among the greatest in history, and some of the most spectacular matches to have been played in soccer history.
Each season, the fight to top Serie A was a relentless push to secure a place in history. And tucked in among the big names of Milan, Juventus, and Internazionale, there's a team whose name doesn't echo through soccer legends in quite the same way: Sampdoria.
For fans of Italian soccer, Sampdoria will be forever inextricably linked with the immense talent of their early 90s team.
Players like Mancini, Vialla, and Lombardo led Sampdoria to their first, and so far only, Sucdetto. These weren't just Sampdoria's greatest players: they're some of the best the world has ever seen.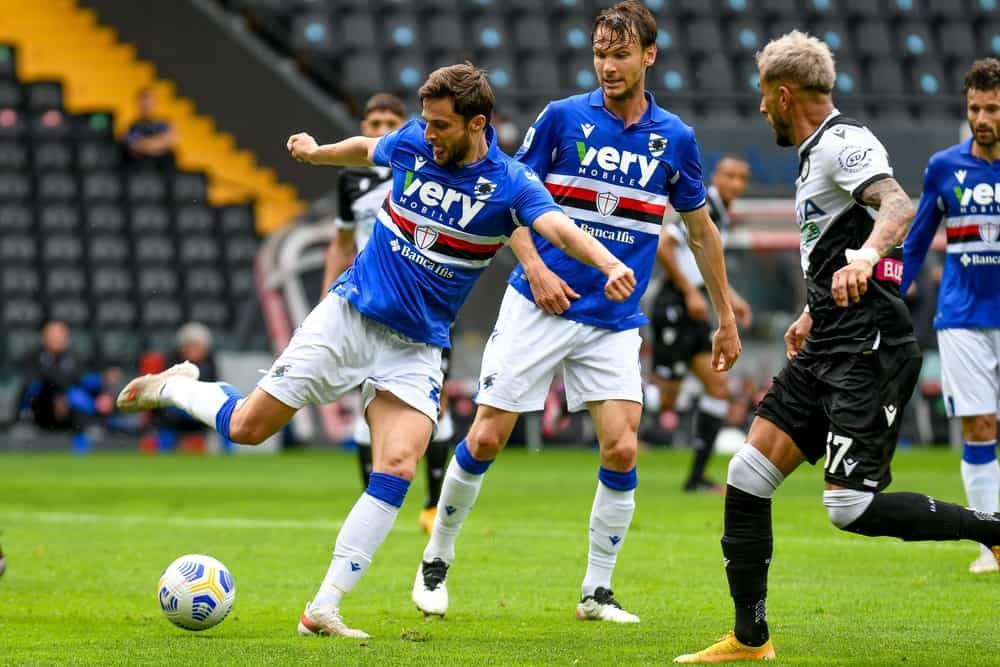 But for fans of Samp, there's so much more to celebrate than their single Serie A victory. A team that has been a regular fixture in the top flight of Italian soccer, Sampdoria's lineup is often full of high quality players.
Although they're yet to achieve the glory of their 90s victories again, Sampdoria still feels like a team with greatness to come.
Basic Facts
Known as Unione Calcio Sampdoria, U.C. Sampdoria, or just Sampdoria.
Based in Genoa, Liguria, alongside their long term rivals; Genoa C.F.C.
Founded in 1946, from the merger of two clubs: Sampierdarenese and Andrea Doria.
Nicknamed I Blucerchiati (The Blue-Circled), La Samp, and Il Doria.
Commonly found in the top flight of Italian league soccer; Serie A. However, they have at times been relegated to Serie B.
Best known for their single win of Serie A in 1991.
Their home grounds are located in Stadio Luigi Ferraris.
Home Grounds
Sampdoria have their home grounds at Stadio Luigi Ferraris, located in Genoa, Italy. They have played there since the team was formed in 1946. Sampierdarenese and Andrea Doria – the two teams that merged to form Sampdoria – also played at Stadio Luigi Ferraris.
Stadio Luigi Ferraris isn't just home to Sampdoria. In fact, they share the grounds with their arch rivals: Genoa C.F.C.
The two local clubs are locked in a fierce competition for superiority, with an intense rivalry between the fans. Stadio Luigi Ferraris is where the Derby della Lanterna takes place: the hotly contested match between Sampdoria and Genoa.
Main Trophies
Italian Serie A Winners: 1990-91 season.
Italian Serie B Winners: 1966-67 season.
Coppa Italia Winners: 1984-85, 1987-88, 1988-89, 1993-94.
Supercoppa Italia Winners: 1991
European Cup Winners Cup Winners: 1989-90.
Wembley International Tournament Winners: 1990, 1991, 1992.
Amsterdam Tournament Winners: 1988.
Joan Gamper Trophy: 2012.
Italian Serie B Runners-up: 2002-03.
Coppa Italia Runners-up: 1985-86, 1990-91, 2008-09.
Supercoppa Italia Runners-up: 1988, 1989, 1994.
European Cup Runners-up: 1991-92.
European Cup Winners Cup Runners-up: 1988-89.
European Super Cup Runners-up: 1990
Club History
Sampdoria has a relatively short history in Italian soccer, at least, when compared to some of the oldest teams. However, it has a parentage that can be traced back to the end of the 1800s.
Ginnastica Sampierdarenese formed in 1891, and turned their focus to soccer in 1899. Societa Andrea Doria started slightly later, first founded in 1895 and gradually moving to soccer. Both teams played within various iterations of the Italian soccer leagues. 
Despite briefly joining together to form La Dominante under the order of fascist authorities, the teams weren't completely merged until 1946. They joined to become Unione Calcio Sampdoria, with a striped kit designed to equally represent each team.
This newly formed team didn't immediately make much of a mark in the Italian soccer league, but they did play consistently in the top flight. Sampdoria became a solid team, with only a brief relegation to the second tier in 1966.
The 1970s were a bumpier ride. Having been relegated in 1977, they stayed there for several years before being bought by businessman Paolo Mantovani. Mantovani invested heavily in the team, bringing them back up to Serie A not long after taking control.
Mantovani also bought in head coach Vujadin Boskov. The enterprising Yugoslavian developed home talent, and put together the fabulous team that eventually won the Scudetto (the award for the top team in Serie A).
Mantovani's sudden death in 1993 led to several key players leaving, and a steady decline. Sampdoria were relegated at the end of the decade.
A swift return followed, but Sampdoria never quite regained their earlier form. They've managed to stay mostly within the top flight, with only a brief relegation in 2011. 
Club Timeline
Ginnastica Sampierdarenese forms in 1981, with Societa Andrea Doria following in 1895. By the start of the 1900s, they are both primarily focused on soccer.
Sampierdarenese and Andrea Doria play separately in various iterations of the Italian soccer league. They briefly join together in 1926, before separating at the start of the 1930s.
In 1946, the two teams merge to form Unione Calcio Sampdoria. They demand a place at the Stadio Luigi Ferraris, and begin playing in their blue banded kit.
Sampdoria quickly enters Serie A, and plays consistently within the league for twenty years. Although they never reach the top of the table, the team manages to finish fairly consistently in the middle.
The 1960-61 season brings their best finish so far: fourth place. However, they can't maintain the momentum. Sampdoria finishes the 1965-66 season in fifteenth place, and are relegated to the second division. Promotion soon follows, and they're back to Serie A in 1967.
Sampdoria fails to find their top form, and lingers at the bottom of Serie A. In 1977, they're once again relegated, and this time they stay in Serie B for several seasons.
Paolo Mantovani acquires the club in 1979. He invests highly, with the intention of bringing Sampdoria back to Serie A. One of his investments is coach Vujadin Boskov. Boskov hires local talent rather than foreign imports, and builds the strongest Sampdoria team so far.
This new team begins to win. They take the Coppa Italia in 1988, reach the final of the Cup Winners Cup in 89, and retain their Coppa Italia title in 1989. That same year, they win the Cup Winners Cup.
In 1991, Sampdoria wins their first, and so far only, Scudetto – the top place in Serie A. Players such as Gianluca Pagliuca, Gianluca Vialli, Roberto Mancini, and Attilio Lombardo go down in Italian soccer history.
Mantovani dies unexpectedly in 1993. The team maintains momentum for a while, but key players begin to leave. Sampdoria stays in Serie A until 1999, when a poor season leads to relegation.
The team remains in Serie B for several seasons, before eventually returning to the top flight in 2003, with thanks to striker Francesco Flachi.
Samp plays solidly for several seasons, qualifying to the 2008-09 UEFA Cup. However, the team is stretched, and they're again relegated in 2011. They return to Serie A at the end of the next season.
Massimo Ferrero purchases the club in 2014. Sampdoria have some impressive matches, but remain a solid mid-table team.
Club Net Worth
Sampdoria has an estimated net worth of 142 million Euros, which is roughly 167 million US Dollars.
Stadium
Stadio Luigi Ferraris is the home stadium of Sampdoria. It can host a capacity of 36,600. The stadium is shared with Sampdoria's arch rivals: Genoa C.F.C.
Sampdoria has made Stadio Luigi Ferraris their home since the team was first formed in 1946. 
Owners
Massimo Ferrero, an Italian film producer and entrepreneur, is the current owner of Sampdoria.
He acquired the team in 2014, despite being a noted fan of one of Sampdoria's Serie A rivals: Roma. This, as well as some dirty financial dealings, has left Sampdoria fans less than happy with Ferrero.
A more fondly remembered owner is Paolo Mantovani. An oil businessman who acquired the club in 1979, he invested heavily to try and boost the team back into Serie A.
Many of his investments, perhaps most notably manager Vujadin Boskov, were instrumental in bringing about Sampdoria's unbelievable run to win their first Scudetto.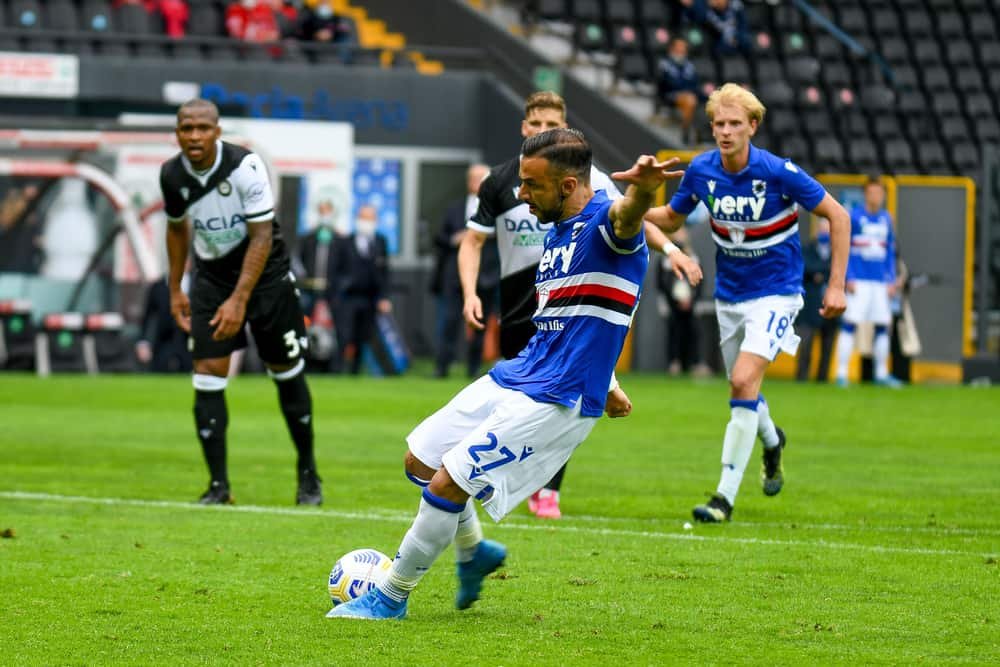 Best Players
There have been some incredibly talented players who have spent significant amounts of time at Sampdoria, making it hard to pick the best player. Of the current and recent lineups, Fabio Quagliarella, Maya Yohida, and Antonio Candreva sit at the top.
From Sampdoria's long history, it's impossible not to mention Roberto Mancini, who is one of the best players of all time. He was particularly formidable in partnership with Gianluca Vialli, a striker who made a significant mark at Sampdoria.
These players, alongside Gianluca Pagliuca, Pietro Vierchowod, Ruud Gullit, Luca Pellegrini, and Moreno Mannini formed one of the most impressive teams ever seen in Serie A.
No discussion of Sampdoria's top players would be complete without a mention of Attilio Lombardo. Widely regarded as Samp's best ever winger, he was praised for his physical strength and incredible work rate.
Not all of Sampdoria's success has been since the 90s, and there have been several players in their longer history who made an impression at the club. Giuseppe Baldini, Eddie Frimani, and Adriano Basseto are all incredible players who spent part of their careers with Sampdoria.
All-Time Top Scorer
Roberto Mancini is the all-time top scorer for Sampdoria, scoring 132 goals during his long time spent with the club.
He was well known for his work with another of Sampdoria's top scorers; Gianluca Vialli. The two were childhood friends, and came to be known as "The Goal Twins".
Fabio Quagliarella is another all-time top scorer for Sampdoria. He's made over 200 appearances for the team, and was nominated for a FIFA Puskas Award in 2019 for a stunning backheel volley in a win for Sampdoria against Napoli.
He's one of less than 100 players to score more than 100 goals in the Serie A league.
Another player who deserves a mention is Francesco Flachi. He was known as Salvatore della patria – Savior of the homeland – by Samp fans, when he helped them gain promotion after some disappointing seasons.
Captain
Fabio Quagliarella is the current captain of Sampdoria, with Bartosz Bereszynski as vice captain. Both players have had some strong success with the team.
Before Quagliarella, Angelo Palombo wore the captain's band for Sampdoria. He spent most of his long career with the club, playing for fifteen seasons before retiring. Palombo considered himself tied to the blue jersey, and rarely pursued any opportunities to leave.
Goalkeepers
Emil Audero, Nicola Ravaglia, and Wladimiro Falcone are all current or recent goalkeepers with Sampdoria. Audero has made over 70 appearances for Samp, and has played for the Italian Under 21 soccer team.
He's considered to be one of the best youth players in Italy, and certainly one to watch as his career advances.
The title of the greatest goalkeeper to ever play for Samp likely belongs to Gianluca Pagliuca. He helped them to the Serie A title, and to the final of the UEFA Champions League. Pagliuca is widely thought to be one of the greatest goalkeepers of all time.
Defenders
Tommaso Augello, Fabio Depaoli, Omar Colley, Lorenzo Tonelli, Maya Yoshida, Bartosz Bereszynski, Alex Ferrari, Nicola Murru, Kaique Rocha, and Jeison Murillo are all current or recent defenders for Sampdoria.
Maya Yoshida, a Japanese player who formerly played for Southampton, is one of the best defenders on the team.
Moreno Mannini is potentially the most talented defender to ever play for Sampdoria.
He spent most of his career with the team, and was an integral part of their defense. Pietro Vierchowod and Luca Pellegrini played alongside him, forming a defense for Sampdoria that was among the best in the world (and certainly one of Italy's greatest).
Strikers
Ernesto Torregrossa, Gianluca Caprari, Antonio La Gumina, Manolo Gabbiadini, Fabio Quagliarella, Manuel de Luca, and Nik Prelec are all current or recent strikers for Sampdoria. Fabio Quagliarella is one of Sampdoria's greatest ever strikers, having made over 200 appearances for the team.
Some of the best players Sampdoria has ever had have been strikers. Gianluca Vialli and Roberto Mancini were a formidable partnership, and prolific goalscorers.
Another, more recent, celebrated partnership is that between Giampaolo Pazzini and Antonio Cassano. They were compared to Mancini and Vialli, and Pazzini was considered the best striker in Italy at the time. 
Managers
Roberto D'Aversa is the current manager for Sampdoria, having recently moved from Parma. 
Recent years have seen some quick changes for manager at Sampdoria. Sinisa Mihajlovic, Walter Zenga, Vincenzo Montella, Marco Giampaolo, and Eusebio Di Francesco were all hired between 2013 and 2019.
In 2019 Claudio Ranieri was hired for the role, but when his contract expired in 2021, he chose not to renew. 
The most notable manager in Samp's history is Vujadin Boskov, who led the team to their only Serie A victory in 1991. He was hired in the late 80s to revitalize the team, and he brought in a huge amount of success.
Rather than foreign hires, Boskov invested in local talent, putting together a squad that eventually earned Samp's most notable achievements. 
Coach
Roberto D'Aversa is the current coach for Sampdoria. He briefly played for the club during the 2000-01 season. He moved into coaching in 2014, and his most notable success has come at Parma, where he oversaw several promotions for the team.
The goalkeeper coach is Fabrizio Lorieri. Angelo Palombo, a former captain at Sampdoria, is currently working as a technical coach.
Assistant Coach
Andrea Tarozzi is the current assistant coach at Sampdoria. He joined alongside Roberto D'Aversa. The two worked together at Parma, where they achieved significant success.
Home Kit
The home kit for Sampdoria U.C. is a blue jersey, circled with a band of red, black, and white. This is an unusual design, and has led to the nickname blucerchiati, meaning blue circled. 
The strange design of the kit came from the merger of the two clubs that formed Sampdoria: Sampierdarenese and Andrea Doria. Sampierdarenese played in red and black, while Andrea Doria played in blue and white. When the teams combined, they kept all the colors, but used them in a band.
Away Kit
The away kit for Sampdoria plays on the home kit. The background is white, with the colors of the band appearing in slanted lines across the chest.
The traditional away kit tends to follow the pattern of white body with colored stripes. However, on occasion, Samp will play around with the stripes. They'll appear lower and higher across the kit, be confined to the cuffs and color, and sometimes disappear altogether.
The third kit tends to alternate between black and red, with the stripes appearing at intervals.
Logo
The logo for Samp consists of a silhouette of a sailor in profile, with a stylized cap, pipe, beard, and hair moving in the wind. This image was first adapted in the 80s, as a reference to the port city of Genoa, where Sampdoria originated.
It's known as the Baciccia, an old Genoese diminutive of Giovanni Battista (John the Baptist in English). In the logo, this silhouette is enclosed in a design of an old French shield, against a background of blue, white, black, and red.
Club Academy
Sampdoria runs a youth academy, invested in growing players to compete in the professional soccer league. There are several youth teams that compete at both a regional and national level, and they have achieved a great level of success.
League Titles
Italian Serie A Winners: 1990-91 season.
Italian Serie B Winners: 1966-67 season.
Other Titles 
Coppa Italia Winners: 1984-85, 1987-88, 1988-89, 1993-94.
Supercoppa Italia Winners: 1991
European Cup Winners Cup: 1989-90.
Wembley International Tournament Winners: 1990, 1991, 1992.
Amsterdam Tournament Winners: 1988.
Joan Gamper Trophy: 2012.
Fun Facts
Sampdoria's greatest rival is soccer team Genoa, who they share a home ground with. Genoa fans are vocal about their pride in the club's long history, and Sampdoria fans prefer to brag about their greater recent successes. When Sampdoria was relegated to Serie B in 2011, 30,000 Genoa fans held a mock funeral procession carrying a coffin draped in the colors of Sampdoria.
While waiting for a jersey sponsor during the first part of the 1995-96 season, Sampdoria chose to wear shirts bearing the words "Samp for Peace" across the chest, raising awareness of the war in the Balkans. They've also worn jerseys supporting Greenpeace against nuclear testing.
To celebrate their title win in 1991, the entire team bleached their hair for the final match of the season.