One of the oldest soccer clubs in Italy, Bologna FC is a club that has experienced a lot of highs and lows in its over 110 year history. From its iconic, beloved players to brief spells of relegation, Bologna is now stronger than ever, maintaining its position in the Italian Serie A.
Below, you will find all the information you need about the storied club, including it's stadium, kit, main trophies, and league titles. You will also find an account of the club's founding by Emilio Arnstein, a young man who was passionate about soccer and recruited like minded individuals to form the club.
You will also find details of the club's timeline, charting the highs of the 30s and 70s, to the lows of the 80s and 90s before the club turned it all around at the turn of the millennium.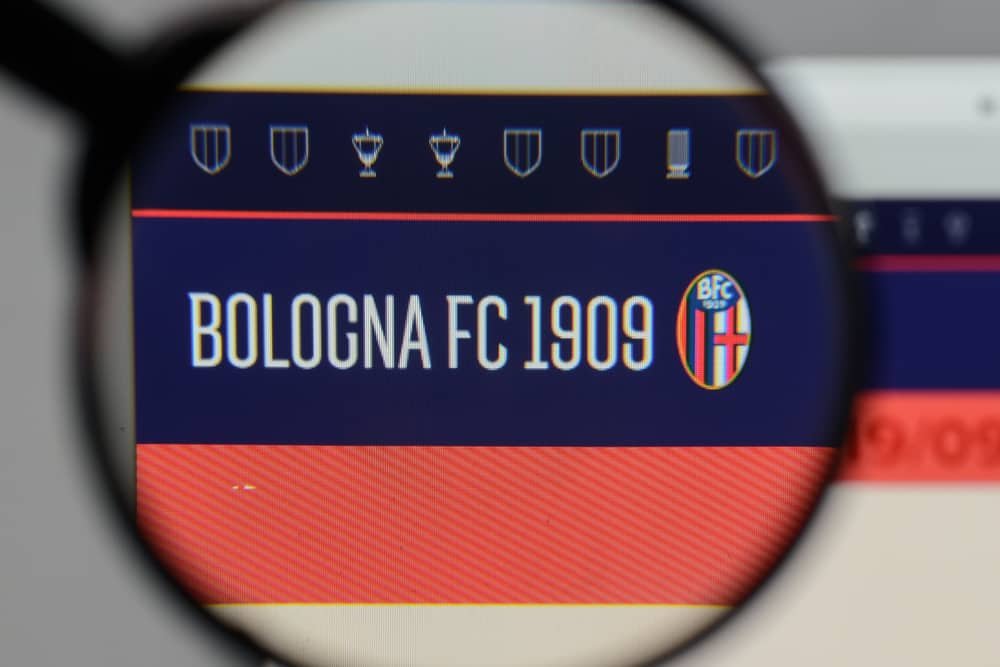 You will also find details about the club's current squad, as well as brief profiles of the club's most famous, and beloved players, and all-time top scorer.
Bologna is also known for having its fair share of owners, some who acted as honorary chairman, and you will find all of them listed below. Bologna also has quite an extensive coaching staff, which we have also outlined below.
Basic Facts
Bologna FC was established in 1909 and was one of the founding members of Serie A. They have won Serie A on a couple of occasions, the first time being in the 1924-1925 season. They have also won the Mitropa Cup three times, the Coppa Italia twice and the UEFA Intertoto Cup once.
Their most prominent players have been Eraldo Monzeglio, Ivan Jensen, Bernard Vukas, Giacomo Bulgarelli, Gianluca Pagliuca, and Roberto Baggio.
While Bologna's most notable period was during the 1970s, the club also saw success before then. They won 7 Serie A titles before the 1970s, and achieved six of them before WWII. 
In the 1990s they plummeted to Serie C.
Home Grounds
Bologna's home grounds were the Stadio Sterlino from 1913 to 1927, and the Stadio Renato Dall'Ara. They have played there since 1927.
Main Trophies
The club's main trophies have been the Prima Divisione/Serie A which they have won seven times, and the Coppa Italia which they have won twice.
Club History
Bologna FC was officially founded on Sunday October 3rd 1909 at the Ronzani beer house. 
Louis Rauch, a Swiss dentist, was elected as president of the club but the young Emilio Arnstein was the true figure behind the club. As soon as he arrived in Bologna (a year before the club's founding) he started to recruit people who shared his passion for soccer.
He was told that in Prati di Caprara's Piazza d'Armi that there were students and young people who were referred to by locals as "those crazy ones who chase a ball." Naturally, Arnstein wanted to meet these people.
They were the Gradi brothers, Martelli, Punioni, and Nanni, Lous Rauch, and Spanish college students Rivas and Antonio Bernabeu (brothers of the legendary Real Madrid present, Santiago Bernabeu). 
The club's first captain, Arrigo Gradi, used to train wearing a shirt from the Swiss college Schoenberg in Rossbach where he studied. The red and blue shirt became the colors of the club's official kit. 
Club Timeline
In 1922 Angiolino Schiavio made his debut in Bologna, going onto be the club's greatest goalscorer and Bologna's first Italian title followed in the 1924-25 season.
After observing growing local enthusiasm for Bologna FC, local regime figure Arpinati oversaw the construction of the Littoriale Stadium, which would hold thousands of fans. The stadium held its inaugural fixture between Italy and Spain in May 1927.
Bologna began the era of the single championship in 1929-30. During a summer tournament in Latin America, the side faced Juventus which began a series of exciting clashes. The team would be Bologna's biggest rival over the next decade.
New players arrived from South America, most notably the legendary Uruguayans Fedullo and Sansone. With these new arrivals, Bologna took to the European stage to clash with sides from the Danube and later the UK. The team brought home their first Central European Cup title in 1932 with the Hungarian master Lelovich at the helm. 
The club's structure also underwent changes during this time. Region Emilia Renato Dall'Ara went from being a special commissioner to president of the club. He achieved excellent results during his much lauded presidency. It was a golden period for Bologna. They won four league titles in 1936, 1937, 1939 and 1941. 
At the 1937 Expo in Paris, Bologna secured a 4-1 win over Chelsea. The first time a European team had beaten a British side!
In 1946-47, the illusion of having returned to greatness was shattered when Bologna were defeated by Grande Torino, although the club did eventually finish in fifth place. However, the team did fall behind Milan and Turin and the club fell dangerously low on the league tables a few times. 
At the start of the 1960s with the arrival of Bernardini, another group of winning players was formed. Giacomo Bulgarelli, Romano Fogli, and Bernardini were brought in alongside the incredible Pascutti and Pavinato.
A 7-1 win over Modena led to the exclamation "Only in heaven do you play like that!" In the 1962-63 season Pascutti set the record for the number of games in which he scored twelve consecutive times in ten matches.
The following period was turbulent and marred with bad luck. Fulvio Bernardini was sacked and a new coach was brought in. The club soon saw positive results with second and third-place finishes. The stars of 1964 gradually left and their replacements were at times underwhelming. 
Things really started to go wrong for the club in 1982. Their only hope was the emerging future star Roberto Mancini, but the club suffered the humiliation of being relegated for the first time in their history. But it didn't stop there, as a further relegation to Serie C followed just one year later.
In 1987-88 under the presidency of Corioni, young manager Gigi Maifredi overcame the doubters to lead Bologna to a first place finish filled with plenty of goals. Things were starting to finally look up for the club. 
Now back in Serie A, Bologna recovered after a difficult start to finish well clear of the drop zone and Maifredi earned a UEFA Cup spot for Bologna the following year, before leaving for Juventus. 
In the 1990-91 season however, the club took a step in the wrong direction. The season didn't get off to a good start with manager Scoglio and was disrupted by recurring injuries and poor soccer.
Bologna FC was formed as a phoenix club and entered into Serie C1 for the 1993-94 season with Guiseppe Gazzoni Frascara as president, Zaccheroni as manager, and Pecci as sporting director. 
In 1996 the team celebrated a promotion to Serie A following an iconic goal from Giorgio Bresciani. The first season back in Serie A was a success with Bologna finishing 7th in the league. 
A decade later Alfredo Cazzola, a well-renowned local businessman who had a keen interest for soccer, bought the club from Gazzoni but the club spent three seasons in Serie B before it returned to the top division.
The club reached Serie A again in 2008. The perfect way to celebrate the club's centenary. Without the management of Arrigoni and the goals of striker Massimo Marazzina, such promotion wouldn't have been possible. Marazzina stepped down from the starting line up and Marco Di Vaio took his place.
Di Vaio became an icon of the era and was normally at the center of relegation dogfights under the unstable stewardship of Menarini and Porcedda. 
The 2014-15 season started with Uruguayan coach Diego Lopez at the helm in the hopes he would return the club to Serie A. 
The new, international set up saw the arrival of a group of North American investors led by Canadian businessman Joey Saputo who would soon assume complete control of the club, and New York lawyer Joe Tacopina.
Claudio Fenucci returned as managing director and Pantaleo Corvino took over as sporting director. Marco Di Vaio also returned to the club as club manager. The former striker had been playing in Canada, but retired from professional soccer to return to Bologna. 
After Delio Rossi's men triumphed in four matches in the play-offs against Avellino and Pescara, Bologna were promoted once more to Serie A on June 9th 2015. 
Following a difficult start to the season, Rossi was replaced by Roberto Donadoni so as to maintain Bologna's place in Serie A. 
Club Net Worth
Bologna FC is estimated to be worth $4.8 billion.
Stadium
Bologna FC's stadium, the Renato Dall'Ara, is located in the heart of Bologna, in the Costa Saragozza district. 
Owners
The current owner of Bologna FC is Giuseppe 'Joey' Saputo, a Canadian businessman who is also the president of the CF Montreal soccer team which he founded in 1992. He is also the president of Saputo Stadium, named after Saputo Inc. his family's dairy products company. 
Saputo has owned the club since 2014.
However, Bologna have had numerous chairmen over the course of their history. Some of these chairmen have been owners of the club, while others have merely been honorary chairmen. You'll find the complete list of Bologna FC chairmen from 1909 to present day below:
Louis Rauch (1909–10)
Pio Borghesani (1910)
Emilio Arnstein (1910)
Domenico Gori (1910–12)
Rodolfo Minelli (1912–15)
Arturo Gazzoni (Honorary chairman from 1916–18)
Rodolfo Minelli (1918–19)
Cesare Medica (1919–21)
Angelo Sbarberi (1921–22)
Antonio Turri (1922)
Ruggero Murè (Honorary chairman in 1923)
Enrico Masetti (1923–25)
Paolo Graziani (1925–28)
Gianni Bonaveri (1928–34)
Renato Dall'Ara (1934–64)
Luigi Goldoni (1964–68)
Raimondo Venturi (1968–70)
Filippo Montanari (1970–72)
Luciano Conti (1972–79)
Tommaso Fabbretti (1979–83)
Giuseppe Brizzi (1983–85)
Luigi "Gino" Corioni (1985–91)
Piero Gnudi (1991–93)
Giuseppe Gazzoni Frascara (Honorary chairman from 1993-2002)
Renato Cipollini (2002–05)
Alfredo Cazzola (2005–08)
Francesca Menarini (2008–10)
Sergio Porcedda (2010)
Massimo Zanetti (2010–11)
Marco Pavignani (2011)
Albano Guaraldi (2011–14)
Joe Tacopina (2014-2015)
Best Players
Gianluca Pagiluca is probably Bologna's best homegrown talent in the modern era. He was born in Bologna and made a name with Sampdoria and Inter Milan before returning to Bologna. He played for them between 1999 and 2006.
Giuseppe Signori is another notable player who helped the club reach the semi-final of the UEFA Cup in 1999, a big achievement after the golden era of the '70s. 
Roberto Baggio only played one season with Bologna, but is considered one of their best players. He scored 22 goals, which is a personal best for the player.
For his performance at Bologna and for the Italian national team he received nominations for both the Ballon d'Or and the FIFA World Player of the Year. He was also nominated for the 1998 Serie A Italian Footballer of the Year and Serie A Footballer of the Year awards. 
Alessandro Diamanti is another notable Bologna player, who was first called up to play for Brescia. He played in the 2021 European Championship for Bologna, and scored the winning penalty to give Italy a 4-2 penalty shoot-out win over England in the quarter-final.
All Time Top Scorer
However, Bologna's greatest ever soccer player is probably Angelo Schiavio. He won four league titles with the club, and is Bologna's highest all-time goalscorer. 
He spent an impressive 16 seasons with Bologna, and scored 242 goals – a record for the club! 109 of those goals were scored while Bologna were in the Italian Serie A.
Captain
Bologna's capitan is Andrea Poli, who signed a four year contract with the club on July 1 2017. 
Goalkeepers
Bologna's FC goalkeepers are:
Junior Costa
Matteo Malagoli
Cristiano Luaptelli
Lukasz Skorupski
Antonio Santurro
Federico Ravaglia
Francesco Bardi
Marek Cech
Lorenzo Bruzzi
Filippo Lombardi
Mouhamadou Sarr
Emanuele Monari
Caio Vinicius Pirana
Luca Marchignoli
Defenders
Bologna's FC defenders are:
Luis Binks
Archimede Morleo
Stefano Denswil
Kevin Bonifazi
Adama Soumaoro
Gary Medel
Wisdom Amey
Miguel Britos
Ibrahima Mbaye
György Garics
Alex Arnofoli
Andrea Esposito
Vangelis Moras
Mathías Abero
Nicolò Cherubin
Danilo
Marco Maini
Lorenzo De Silvestri
Riccardo Cestaro
Mitchell Dijks
Gabriel Boloca
Omar Khailoti
Ebenezer Annan
Alessandro Bianconi
Denis Portanova
Ruben Palomeque
Strikers
Bologna FC's strikers are:
Riccardo Orsolini
Federico Santander
Matteo Mancosu
Nicola Sansone
Andreas Skov Olsen
Federico Rodríguez
Simone Rabbi
Sydney van Hooijdonk
Jonathan Cristaldo
Rodrigo Palacio
Valentin Antov
Jerdy Schouten
Antonio Calabrese
Mattia Pagliuca
Edoardo Vergani
Leonardo Stanzani
Gianmarco Cangiano
Antonio Raimondo
Henry Giménez
Aaron Mattia Tabacchi
Musa Barrow
Cristian Mutton
Luca Veratti
Riccardo Benatti
Manuel Gavilan
Managers
Bolgona's FC's managers from 2001 to the present day are:
Sinisa Mihajlovic (28 Jan 2019 to present day)
Filippo Inzaghi (01 Jul 2018 to 28 Jan  2019)
Roberto Donadoni (28 Oct 2015 to 01 Jul 2018)
Delio Rossi (04 May 2015 to 28 Oct 2015)
Diego Lopez (01 Jul 2014 to 04 May 2015)
Davide Ballardini (08 Jan 2014 to 01 Jul 2014)
Stefano Pioli (04 Oct 2011 to 08 Jan 2014)
Pierpaolo Bisoli (26 May 2011 to 04 Oct, 2011)
Alberto Malesani (01 Sep 2010 to 26 May, 2011)
Carlo Mazzone (01 Jul 2004 to 31 May, 2005)
Francesco Guidolin (01 Jul, 2001 to 01 Jul, 2004)
Coach
Bologna's FC's coach is former AC Milan and Italy striker Filippo Inzaghi. 
Assistant Coach
Bologna's FC has quite a large coaching team consisting of an assistant manager, a goalkeeping coach, technical coaches, and athletic coaches.
Miroslav Tanjga is assistant manager, Luca Bucci is goalkeeping coach, Renato Baldi, Emilio De Leo, and Gabriel Raimondi are technical coaches, while Stefano Pasquali, Nicolo Prandell, Massimiliano Marches are athletic coaches. 
Home Kit
Bologna's FC home kit is a red shirt, with thick, navy vertical stripes.
Away Kit
Bologna's new 2020-2021 new away soccer kit is a white shirt with grey sleeves, with a red and blue trim on the neck and sleeve cuffs.
Logo
The Bologna Fc logo has undergone a lot of changes over the years, but it has always retained the same structure and core element, such as the combination of red and blue stripes. 
This pattern is not only used on the logo, but is incorporated into the design of the team shirts too. The club's nickname is even 'Rossoblu' (red and blue). 
Club Academy
Bologna FC's club academy is Bologna FC 1909 Academy, and is actually based in central Florida. It is a program for boys and girls that aims to promote soccer in the area, and introduce children to soccer. 
The Bologna FC 1909 Academy educates children about soccer through the European methodology of training and soccer philosophy.
League Titles
Bologna FC are seven time winners of the Italian Serie A, winning in 1924–25, 1928–29, 1935–36, 1936–37, 1938–39, 1940–41, and 1963–64. They have also been runners up 7 times in 1920–21, 1923–24, 1925–26, 1926–27, 1931–32, 1939–40, and 1965–66.
They have also won the Coppa Italia twice in 1969–70, 1973–74.
As for international titles, they have won the Mitropa Cup three times in 1932, 1934, and 1961, and were runners up twice in 1962 and 1989.
They have also won the Coupe des Nations in 1937, and the UEFA Intertoto Cup in 1998.
Other Titles
They also won the Anglo-Italian League Cup in 1970, and the Nova Super Sports Cup in 2001.
They were also runners up of the Anglo-Italian Cup in 1971 and runners up of the Cup of the Alps in 1969.
Fun Facts
One of Bologna's most notable games was a 1-1 draw at the San Siro against Inter Milan who hadn't lost in four league games. Bologna were placed fourth in the table alongside Roma, Lazio, Milan and Chievo.
This was thanks to Mattia Destro's eleventh Bologna goal as he celebrated his 130th Serie A appearance (he made 33 of those appearances while playing for Bologna). It was his first goal against the Nerazzurri and his 14th minute strike meant that Inter Milan didn't have to concede in the first half.
Donadini's side played well, and had to play through six minutes of stoppage time on top of the original 90 minutes, covering a total of 108, 963 kilometers with an average speed of 6.6 kmph. Inter Milan meanwhile ran 105,378km at a speed of 6.3kpmh.
The fastest Bologna player of the entire match was Adam Nagy. He played at an average speed of 8.5kmph while Inter Milan's fastest player was Kondogbia who had an average speed of 8.3kmph.
However, it was Saphir Taider who ran the most out of anyone, covering 11.49km during his 87th appearance.