The Leeds United Football Club is a well-known and professional soccer team within England, popular, well-loved, and prestigious. It was formed in 1919, right after the Leeds City team was disbanded by the Football League. As such, it became the new official Leeds team, and it took over the Elland Road stadium. 
Leeds United have always been first tier in English soccer, and it is currently competing in the Premier League, which is proof enough of their ongoing success. 
The team's logo features the white rose of York, as Leeds is in West Yorkshire, and the main rival teams are Manchester United and Chelsea. Although there is also some notable rivalry with Bradfield City, Sheffield United, Huddersfield town, and a few others. 
Whether you're a fan of Leeds United and you want to learn more about them, or you're new to soccer and you want to learn some facts about some of the top teams in England, we've got you covered. In this complete guide we'll tell you all the basic key facts about Leeds United, and we'll also delve into their history and players so you can show off your knowledge as a proper connoisseur. If that sounds good, then go on and keep reading! 
Basic Facts
Before we get into all the deep information, here is a simple list with some of the main key facts that all fans of Leeds United Football Club should know, or at the very least be aware of: 
Location: Leeds, West Yorkshire, England. 
Founded: 17th of october, 1919. 
Ground: Elland Road
Nickname: The Whites, or alternatively, The Peacocks. 
Kit Color: all white 
Owner: Aser Group Holding (63%) and 49ers Enterprises (37%)
League: Premier League
Current Manager: Marcelo Bielsa
Current Captain: Liam Cooper
Home Grounds
Leeds United Football Club has only ever had one home ground: the Elland Road stadium. It has been their base, and where they have played, ever since they were founded in 1919. In fact, Leeds United took over the stadium from their previous team, Leeds City, because this team was disbanded, which is what led to the founding of Leeds United. 
This stadium is located in Beeston, in Leeds (West yorkshire, England), and it is the 14th largest stadium in England. Leeds United was allowed to rent the stadium as soon as they were founded, until they had enough money saved up to buy it for themselves.
One of the nicknames that the Leeds United team has, "the Peacocks", actually comes from this home ground, as the original name of Elland Road was The Old Peacock ground. So basically, the home ground itself is a very big part of the team's identity. 
It's also worth noting that Alex Ferguson, most famously known for having been manager of Manchester United for quite a few years, said that Elland Road is one of the most intimidating stadiums in European soccer, due to the atmosphere it has. So basically, it's a pretty impressive stadium! Definitely a home ground that Leeds United can boast about. 
Oh, and in July 2018 Elland Road was voted as the Best Ground in the Championship, by soccer supporters. So yeah, it's a great home ground to have. 
Main Trophies
Leeds United is top tier within the different soccer teams in England, and it is currently in the Premier League, as well as having been amongst the top teams throughout most of its history. So it is to be expected that they have collected quite a few trophies. 
Here are the main trophies Leeds United has under its name: 
Domestic Competitions:
League titles:
First Division/Premier League: 1968-69, 1973-74, 1991-92
Second Division/Championship: 1923-24, 1963-64, 1989-90, 2019-20
Third Division/League One: runners-up in 2009-10
Cups:
FA Cup: 1971-72
EFL Cup: 1967-68
FA Charity/Community Shield: 1969, 1992
European Competitions:
European Cup/Champions League: runners-up 1974-75
UEFA Cup Winners Cup: runners-up 1972-73
Inter-Cities Fairs Cup: 1967-68 and 197-71 winners, and runners-up in 1966-67
Club History
Pre-Leeds United:
Before Leeds United was founded, their predecessors, Leeds City, were the official Leeds soccer team. But in 1919, the Football League forcibly disbanded the team, due to allegations of illegal payments to players during the First World War. 
As a response to the open vacancy, the Leeds United team was founded, as a replacement. It was founded in 1919, and was invited to enter the midland League. Yorkshire Amateurs had bought the stadium on Elland Road, but they offered to make way for the new team, under the management of Dick Ray. 
Then, Hilton Crowther, chairman of Huddersfield Town, loaned Leeds United £35,000, which would be repaid when the team won a promotion to Division One. 
1920-1960 Era:
On the 31st of may, 1920, Leeds United were elected into the Football league. They went on to establish themselves within the Second Division, and in 1924 they won the title and a promotion to the First Division.
However, they didn't do too well in the First Division, and were relegated back down to Second in 1926-27. They were promoted again next season, only to be relegated again. So they were pretty much known for being on the edge.  
In 1935 Billy Hampson became manager, and remained in charge for 12 years. After the Second World War, however, in the 1946-47 season, Leeds was relegated again, with the worst league record of their history. This is what prompted Hampson to resign, and he was replaced by Willis Edwards. 
Leeds United pretty much remained in the Second Division until 1955-56, when they went up to First Division again. John Charles, who led them at the time, was eager for success, but as the team couldn't do much for him, he was sold off to Juventus for £65,000, which became a world record back then. And with this loss, Leeds United went back down to Second, yet again. 
1961-1974 Don Revie Era:
In 1961, former player Don Revie was appointed as manager of Leeds United. The club was in financial difficulties, and not doing very well, and the only reason they didn't go down to the Third Division was that they had one win in 1961-62.
So Revie didn't have much to work with. Nevertheless, Revie got to work. He implemented a youth policy, changed the kit color, and led Leeds to promotion back into the First Division. 
Leeds United got back in the game, with quite a few almost wins. In the 1966-67 season, Leeds United finished fourth in the league and reached the semi-finals of the FA Cup. However, the team still wasn't getting any trophies.
So in 1967-68, they doubled their record transfer, buying Mick Jones (former Sheffield United center-forward) for £100,000. And it worked! In that season Leeds won their first major trophy, the League Cup, against Arsenal. 
From then on, Leeds began to collect successes. And in 1970, Leeds broke the British transfer record by signing Allan Clarke (from Leicester City) for £165,000. 
Revie was offered to manage a couple of other soccer teams, but he rejected them in favor of remaining with Leeds United, as the team was steadily establishing itself as a top contender, at last.
And at the end of the 1973-74 season, Revie accepted a job as the England national team manager. But in all of his time with the team, Leeds United became one of the 50 greatest soccer teams of all time, so he has gone down in history as their most iconic manager.
1974-1988 Post-Revie and Relegation:
After Revie left the team, brian Clough picked up the mantle of manager. This actually came as a bit of a surprise, as Clough had been a big critic of Revie's tactics with the team. His journey as manager started badly, with a defeat. So after just 44 days, he was dismissed. 
Kimmy Armfield took the team up and led them to a controversial defeat in the European Cup of 1973-74. However, with the assistance of coach Don Howe, the team was rebuilt and it managed to remain within the top ten soccer teams, although it no longer dominated in victories.
The board became impatient at the lack of success, and they replaced Armfield. The team then went through a few managers and lost in performance, eventually getting relegated at the end of 1981-82. 
1988-1996 Howard Wilkinson:
In 1988, Howard Wilkinson was appointed manager of the team, and he helped keep the team from being relegated again. In 1989, they signed Gordon Strachan for £300,000. He was named captain, and Leeds went on to win the Second Division and getting promoted back up to the First Division. Once again within the top teams, Leeds United became founding members of the Premier League, however, Leeds United remained pretty much on the edge and was not consistent with their level of performance. 
However, during this era, Wilkinson and the youth coach Paul Hart developed the Leeds United Youth Academy, which has produced many talented football players over the years, becoming somewhat of a legacy. 
1997-2001 Grahan and O'leary Era:
George Graham became the successor to Wilkinson, which was controversial because he had received a one-year ban from the Football Association.
Nevertheless, he made some good purchases for the team, helping the youth players and getting the team to qualify for the season of the UEFA Club. 
In 1998, Graham left and was replaced by David O'Leary. During this time, Leeds was always within the top five teams in the Premier League, securing a stable position as a challenging soccer team, which was a massive boost.
However, this era was tarnished by players Jonathan Woodgate and Lee Bowyer being involved in an accident with an Asian student, and a long-running court case.
2001-2007 Financial Crisis-Era:
Leeds United, under Peter Ridsdale as chairman, had taken out some big loans for the possibility of buying a share of TV rights from the UEFA Champions League. However, for two successive seasons, Leeds performed badly, and therefore they did not have enough money to pay back these loans. 
The cracks of financial trouble began to show, with the club selling off Rio Ferdinand over to Manchester United for £30 million. Ridsdale and O'Leary had a big falling out over this, and O'Leary was fired. 
Terry Venables became the new manager and it did not go well. Many players were sold off to repay the loans, and tensions kept on rising. Venables was replaced with Peter Reid, and then Ridsdale resigned from the board, replaced by John McKenzie. 
Leeds went through a few more managers, and many club assets were sold off. In the end, the team was relegated down during the 2003-04 season. 
In 2004, Leeds was forced to also sell their training ground and their stadium. And in the end, the board sold the club to Ken Bates for £10 million.
Next comes rock bottom. Leeds entered administration in 2007, incurring a league-imposed 10-point deduction, so the club was relegated down to the third tier. The lowest the team has ever been.  
2007-2010:
HM Revenue and Customs legally challenged Leeds, and if the club was still in administration at the start of the following season…then Leeds would be prevented from starting their campaign by the Football League. Luckily, HMRC did not actually pursue legal action any further, allowing Leeds to try and get out of the pit they were in. 
In the 2009-10 season the team had an amazing start, and they were able to secure promotion to the Championship. 
2010-2014:
In 2011, Ken Bates bought the club and became the owner of Leeds United. 
Neil Warnock was appointed manager. 
In 2012, a Middle East private equity group (GFH Capital) finalized a deal for a protracted takeover of the club, gaining 100% of the shareholders. Bates would remain as the chairman, and then as the club president. 
The club performed below average. Bates stepped down as chairman and left the club altogether. 
In 2014, GFH Capital almost completed a transaction with Sports Capital that would have given them a 75% stake, however, this failed due to a lack of financial backing.
There were a lot of controversies and a lot of tension, but ultimately Leeds United sold 75% of the ownership of the club to the Cellino family. However, the Football League declared that this could not go through, due to Cellino being convicted by an Italian court.
2014-2017 Cellino Era:
In April of 2014, Cellino resolved his legal issues and took over 75% of the club. However, he was then disqualified by the Football League after obtaining more legal documents from the Italian court. 
In 2017, Andrea Radrizzani purchased a 50% stake from Cellino. 
Meanwhile, the team wasn't performing very well, mostly due to all the instability. 
2017-Present Day Era:
In 2017 Radrizzani announced a 100% buyout of Leeds United, taking full ownership. The purchase of Elland Road was also completed, so the stadium was back in the hands of the club. 
In 2018 49ers Enterprises bought shares of the ownership of the club. 
The team began to improve, slowly climbing up amongst the top soccer teams within England. And nowadays, it is in the Premier League, although its position there is still precarious. 
Club Timeline
If you've actually gotten through that entire section on the history of Leeds United…honestly well done. We know it's a lot, and it's very much a bit of a rollercoaster. 
To sum up, the main important dates and events here are a far simpler timeline to look at:
1919: The club is founded 
1920: Leeds United becomes a member of the Football League
1924: First ever season in Division One
1961: The club kit changes to white
1968: First win of a European competition, the Inter-Cities Fairs Cup
1969: First win of the Football League 
1972: Leeds United wins the FA Cup
1988: Howard Wilkinson is appointed as manager
2004: Relegated from the Premier League
Club Net Worth
The current net worth of Leeds United is around $4 billion.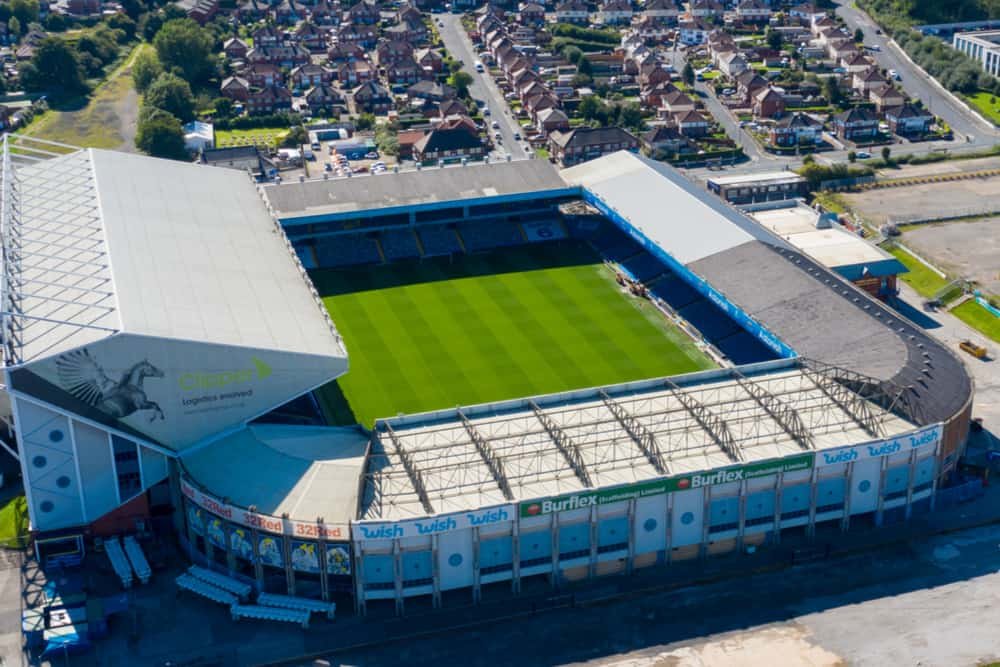 Stadium
The official stadium for Leeds United is Elland Road, which has been their home ground ever since they were founded. The stadium is located in Leeds, West Yorkshire, and it has a capacity of 37,890 people. 
It is the 12th largest soccer club in England and the fourth biggest one outside of the Premier League. 
Owners
Leeds United has gone through a few owners. But currently, it is 63% owned by the Aser Group Holding, and 37% owned by the 49ers Enterprises. 
Best Players
Leeds United has had quite a rocky history, but it has managed to have some pretty impressive players throughout the years. Here are the best and most notable. 
All Time Top Scorer:
Allan Clarke, with 151 goals. 
Followed by Tom Jennings with 117 goals, and Billy Bremner with 115. 
Goalkeepers:
Illan Meslier, and Kristoffer-August Sundquist Klaesson. 
Defenders:
Junior Firpo, Stuart Dallas, Robin Koch, Diego Llorente, Luke Ayling, and Liam Cooper.
Strikers:
Patrick Bramford, Helder Costa, Raphinha, Tyler Roberts, Ian Poveda, and Joe Gelhardt. 
Home Kit
The Leeds United home kit is an all-white uniform, with yellow Adidas stripes on the shoulders, and a button-up collar. 
Away Kit
The Leeds United away kit is a dark blue uniform, with white Adidas stripes on the shoulders. 
Logo
The first badge logo for Leeds United appeared in 1934. The club adopted the Leeds coat of arms, which remained on the kit until 1961. Then, the all-white strip replaced the blue and gold, and the badge stopped being featured on the shirts. 
In 1964, a perching owl badge was added to the shirt strip, which was a shock given that Revie had a superstition with birds. The owl came from the three owls from the coat of arms.
Between 1971 and 1973, Leeds used the initials LUFC down the center of the badge, in a diagonal manner. 
In the season of 1978-79, a new badge appeared, with "LEEDS UNITED AFC" along with a stylized peacock. 
In 1984, another badge was introduced with the white rose of York, accompanied by the traditional blue, gold, and white. 
In the 1998-99 season the logo became more of a European shield design. It had the LUFC initials down the center, vertically, along with the white rose and the blue, gold, and white colors. 
In 2019 the club used a special badge, gold-colored. Instead of initials, it used LEEDS UNITED, above 100 YEARS, in order to celebrate the centenary of the club's creation.