Liverpool Football Club is one of the most prominent and successful clubs in world soccer, with an impressive amount of honors and a rich history on the European stage. 
The club play their home matches at the iconic Anfield stadium, and have won six European Cups, more than any other English club. With some of the world's most recognizable players and a number of historic, long-standing rivalries, Liverpool continue to play a hugely significant role in worldwide soccer. 
This ultimate guide will take an in-depth look at Liverpool as a club, including a timeline of their history, a list of their honors, and some of the club's most important records.
Moreover, we'll also provide some information about Liverpool's stadium, their owners, prominent former players, managerial history, and the current playing squad. 
Basic Facts
Location: Liverpool, Northwest England 
Founded: 1892
Ground: Anfield
Nickname: The Reds
Kit Color: Red 
Owner: Fenway Sports Group 
Chairman: Tom Werner 
League: Premier League 
Current Manager: Jurgen Klopp
Current Captain: Jordan Henderson 
Home Ground 
Liverpool Football Club have only ever played at one stadium – Anfield. It's one of the most iconic sports grounds in the world and has hosted some of the most incredible matches in soccer history. 
Prior to every match at Anfield, you can hear the famous "You'll Never Walk Alone" anthem bellowed out by Liverpool supporters, while The Kop sing famous songs throughout each match. 
In terms of construction, Anfield was built in 1884 on land close to Stanley Park. Situated roughly three kilometres from Liverpool city centre, the stadium was originally used by Liverpool's rivals Everton before they moved to their home of Goodison Park following a dispute over rent with Anfield owner John Houlding. 
Left with an empty ground, and no soccer club to use it, Houlding founded Liverpool in 1892. As the saying goes, the rest is history, with Liverpool having played at Anfield ever since. 
The capacity of the stadium at the time of Liverpool's formation was around 20,000, although only 100 people attended their first match. The Kop was built a little later around 1906 as a result of the growing attendance and was originally named the Oakfield Road Embankment. 
This was later renamed to the Spion Kop, and at its peak, the stand could hold 28,000 spectators, making it one of the largest single-tier stands in the world. Furthermore, the entire stadium could hold more than 60,000 supporters during this time prior to the 1990s. 
However, recommendations from the Taylor Report in the early 1990s meant that all clubs in the Premier League were required to convert to all-seater stadiums, reducing Anfield's overall capacity to around 45,000. 
Due to restrictions on expanding the capacity of Anfield, Liverpool announced plans and designs to move to the proposed Stanley Park Stadium in 2002. 
These plans were approved by the council, but construction was halted in 2008 due to the fact that Liverpool's owners at the time, George Gillett and Tom Hicks, had difficulty in financing the £300 million needed for the development. 
In 2012, Fenway Sports Group, the club's new owners, announced plans to redevelop Anfield rather than build a new stadium in Stanley Park. This was a decision met with widespread delight from Liverpool's supporters. 
The redevelopment of Anfield would see the capacity of the ground increase from 45,276 to approximately 60,000. When construction was completed on the Main Stand in 2016, the capacity of Anfield was increased to just over 54,000.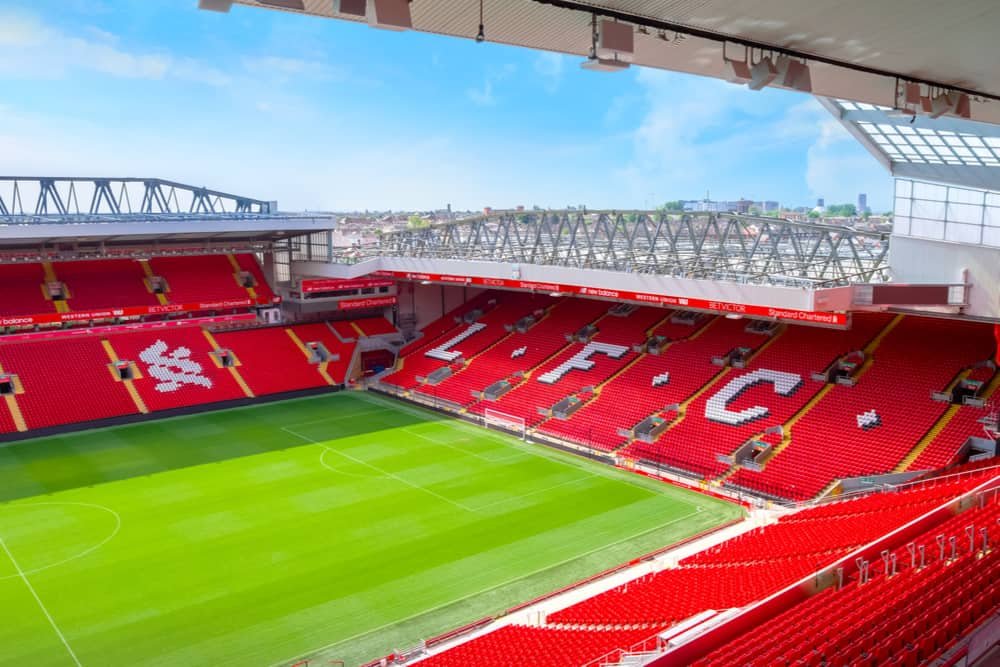 Main Trophies
As mentioned previously, Liverpool are one of the most successful sides in the world, in terms of trophies won. They've won an incredible 19 league titles in the top tier of English soccer, the most recent being their 2019/20 triumph. 
This victorious 2019/20 campaign in the Premier League ended Liverpool's 30-year wait for the biggest prize in English soccer after a dominant period during the 1970s and 1980s. 
In addition to their domestic success, the Merseyside club have won six European Cups, more than any other English club, as well as three UEFA cups and one FIFA Club World Cup. 
Liverpool's fifth European Cup triumph in 2005 meant that the club was awarded the trophy permanently, as well as multiple-winner badge. 
Furthermore, in 2019, they became the first English club to win the international treble of Champions League, UEFA Super Cup, and Club World Cup. 
Listed below is a full record of the main trophies Liverpool have won throughout their 129-year history. 
First Division / Premier League: 
1900-01, 1905-06, 1921-22, 1922-23, 1946-47, 1963-64, 1965-66, 1972-73, 1975-76, 1976-77, 1978-79, 1979-80, 1981-82, 1982-83, 1983-84, 1985-86, 1987-88, 1989-90, 2019-20
Second Division:
1893-94, 1895-96, 1904-05, 1961-62 
FA Cup:
1964-65, 1973-74, 1985-86, 1988-89, 1991-92, 2000-01, 2005-06 
League Cup / EFL Cup: 
1980-81, 1981-82, 1982-83, 1983-84, 1994-95, 2000-01, 2002-03, 2011-12
FA Charity Shield / FA Community Shield: 
1964 (shared), 1965 (shared), 1966, 1974, 1976, 1977 (shared), 1979, 1980, 1982, 1986 (shared), 1988, 1989, 1990 (shared), 2001, 2006
European Cup / UEFA Champions League: 
1976-77, 1977-78, 1980-81, 1983-84, 2004-05, 2018-19 
UEFA Cup:
1972-73, 1975-76, 2000-01
European / UEFA Super Cup:
FIFA Club World Cup:
Club History and Timeline 
Liverpool Football Club was founded in 1892 following a dispute between John Houlding, owner of the land at Anfield, and the Everton Committee. The dispute resulted in Everton relocating from Anfield to Goodison Park, and Houlding forming a new team, Liverpool, to play at the vacant Anfield. 
The club was initially named "Everton F.C. and Athletic Grounds Ltd", but soon became Liverpool F.C. in March 1892. Three months later, they gained official recognition from The Football Association. 
Early Years
Liverpool played their first match on 1st September 1892, a 7-1 victory over Rotherham Town in a pre-season friendly where the entire team was made up of Scottish players. In its debut season, the team won the Lancashire League and joined the Second Division of the English soccer league for the 1893-94 campaign. 
They soon won promotion to the First Division in 1896, with manager Tom Watson then going on to win the club's first league titles in the top tier in 1901 and 1906. 
Other than a pair of League championships in 1922 and 1923, Liverpool had to endure a relatively quiet spell during the first half of the 20th century. However, they finally secured their fifth league title in the 1946-47 season. 
Shankly and Paisley Legacy 
Bill Shankly was appointed manager in 1959, and quickly began reshaping the team. Liverpool won the league title in 1964, their first in 17 years, and started to challenge some of the biggest sides in the world in European competition. 
They won both the league and the UEFA Cup during the 1972-73 season, before Shankly retired and his assistant, Bob Paisley, took charge. Liverpool continued their success with consecutive league titles in the 1976 and 1977, the latter coming alongside a first European Cup. 
Liverpool retained the European Cup in 1978 and regained the First Division title a year later in 1979. During Paisley's hugely successful nine years in charge of the club, Liverpool won 20 titles, including six League titles, three European Cups, and three consecutive League Cups. The only domestic trophy that evaded Paisley was the FA Cup. 
Further Success But Disaster 
After Paisley retired in 1983, his assistant Joe Fagan took charge of the side. In his debut season, Fagan led Liverpool to a historic treble – League, European Cup and League Cup – becoming the first English side to win three trophies in a single season. 
The Reds reached the European Cup final again in 1985 against Juventus at the Heysel Stadium. However, this match was overshadowed by tragic scenes before kick-off, where Liverpool supporters breached a fence separating the two sets of fans, and charged the Juventus supporters. 
The resulting force caused a retaining wall to collapse, subsequently killing 39 fans. This incident became known as the Heysel Stadium disaster, and all English clubs received a 5-year ban from participating in European competition. Liverpool received a 10-year ban, however, this was later reduced to six years. 
Kenny Dalglish took over from Fagan shortly afterwards and led Liverpool to further success, including three league titles and two FA Cups. This success, however, was soon overshadowed by further tragedy – the Hillsborough disaster. 
In an 1989 FA Cup semi-final against Nottingham Forest, hundreds of Liverpool supporters were crushed against perimeter fencing. A total of 94 fans died on the day, while a further three have died since as a result of the injuries sustained in the crush. 
This disaster led to a government review of stadium safety which culminated in legislation ordering top-division teams to have all-seated stadiums. 
Recent History
Since the success of Dalglish in the late 1980s, Liverpool have enjoyed a relatively quiet period. Managers Graeme Souness, Roy Evans, and Gerard Houllier all brought domestic success and consistent high finishes in the league, but European Cups and league titles ultimately evaded them. 
Liverpool tasted major European success again in 2004-05 beating AC Milan in the Champions League final under the stewardship of Rafael Benitez. The match is generally considered one of the best soccer matches of all time, with Liverpool coming from 3-0 down at half-time to level the match 3-3, and then win 3-2 in a penalty shootout. 
With inconsistent performance in the Premier League in the late 2000s and early 2010s , Liverpool came within touching distance of lifting the trophy in the 2013-14 season. However, they came up short and had to settle for 2nd behind Manchester City.
Liverpool finally returned to the top of the sport, both domestically and internationally, in the late 2010s with Jurgen Klopp in charge. The club won the 2018-19 Champions League and the 2019-20 Premier League titles, breaking all sorts of records in the process. 
They secured the league title with seven games to spare making it the earliest any team has ever won the league, while amassing a club-record 99 points and a joint-record 32 wins in a top-flight season. 
Club Net Worth 
Currently owned by John W. Henry, Tom Wener, and their investment in Fenway Sports Group, the estimated combined net worth of Liverpool Football Club is $4.1B. This value was provided by Forbes in April 2021, and makes Liverpool the world's fifth most valuable soccer club. 
Owners 
As mentioned above, Liverpool Football Club is currently owned by John W. Henry, Tom Werner, and Fenway Sports Group. They bought the club on the 15th October 2010 for around $415 million and have raised the value of the club significantly since. 
The relationship between the owners and the supporters has generally been positive since 2010, with success on the field reflecting the good work behind the scenes in terms of recruitment and other business deals. 
However, this relationship was somewhat fractured in 2020, when Fenway Sports Group came under fire from the fans and media for deciding to furlough all non-playing staff during the coronavirus pandemic.
Furthermore, in 2021 they also agreed to a breakaway Super League with other high-profile clubs such as Manchester United, Real Madrid and Juventus. 
Both decisions were met with dismay from Liverpool supporters, with the two rulings soon reversed and subsequently apologized for. 
Prior to Henry, Werner, and Fenway Sports Group, Liverpool were owned by American businessman George Gillett and Tom Hicks. This partnership was incredibly unsuccessful, with rising debts and a distinct lack of support from the supporters. 
Best Players 
Since their formation 129 years ago, Liverpool have had a number of legendary players on their books. Listed below are 12 of the most prominent.
Roger Hunt (1958-1969) 
Striker
416 Appearances / 261 Goals 
Emlyn Hughes (1967-1979) 
Midfielder & Defender
474 Appearances / 35 Goals 
Kevin Keegan (1971-1977) 
Forward
321 Appearances / 100 Goals 
Kenny Dalglish (1977-1990) 
Forward
515 Appearances / 172 Goals
Graeme Souness (1978-1984) 
Midfielder
247 Appearances / 38 Goals 
Ian Rush (1980-1986 & 1988-1996) 
Striker
660 Appearances / 346 Goals 
John Barnes (1987-1997)
Winger
403 Appearances / 106 Goals  
Robbie Fowler (1993-2001 & 2006-2007) 
Striker
369 Appearances / 183 Goals 
Jamie Carragher (1996-2013) 
Defender
737 Appearances / 4 Goals 
Steven Gerrard (1998-2015) 
Midfielder
710 Appearances / 186 Goals 
Jordan Henderson (2011-present) 
Midfielder
392 Appearances / 30 Goals
Mohamed Salah (2017-present) 
Forward
203 Appearances / 125 Goals 
All Time Top Goalscorer 
The club's record goalscorer is Ian Rush, who netted a total of 346 goals throughout his 660 matches for the club. 229 of his goals came in league matches, 39 in the FA Cup, 48 in the League Cup, and 23 in European competitions. 
Managers
Liverpool have had a total of 21 full-time managers, with Kenny Dalglish the only manager to lead the club on two separate occasions. 
In terms of trophies won, the most successful manager in Liverpool's history is Bob Paisley, who won six league titles, three European Cups, three League Cups, one UEFA Cup, one UEFA Super Cup, and six Charity Shields throughout his nine-year reign as manager. 
The club's longest-serving manager is Tom Watson who held the role for a total of 19 years from 1896 to 1915. 
The current Liverpool manager is Jurgen Klopp, who's been in the role since 2015. The German has won four trophies for the club, including the Premier League and Champions League. 
Listed below in chronological order are the 21 managers that have taken charge of Liverpool on a full-time basis. 
William Edward Barclay (1892-1896) 
John McKenna (1892-1896) 
Tom Watson (1896-1915) 
David Ashworth (1919-1923) 
Matt McQueen (1923-1928)
George Patterson (1928-1936) 
George Kay (1936-1951) 
Don Welsh (1951-1956) 
Phil Taylor (1956-1959) 
Bill Shankly (1959-1974) 
Bob Paisley (1974-1983) 
Joe Fagan (1983-1985) 
Kenny Dalglish (1985-1991) 
Ronnie Moran (1991) 
Graeme Souness (1991-1994)
Roy Evans (1994-1998)
Gerard Houllier (1998-2004) 
Rafael Benitez (2004-2010) 
Roy Hodgson (2010-2011)
Brendan Rodgers (2012-2015)
Jurgen Klopp (2015-present)
Captains
Liverpool have had 45 different club captains since their formation in 1892. The first captain of the side was Andrew Hannah who led the club in its first three years from 1892-1895. 
Alex Raisbeck, captain of the club from 1899-1909, was the longest-serving captain for over a century until Steven Gerrard surpassed his record, serving 12 years as captain between 2003 to 2015. 
The current Liverpool captain is Jordan Henderson, who replaced Steven Gerrard in 2015, following his move to LA Galaxy. 
Current Squad and Coaching Team 
Goalkeepers: 
Alisson Becker
Adrian 
Loris Karius
Caoimhin Kelleher 
Defenders: 
Virgil van Dijk
Ibrahima Konate
Joe Gomez
Joel Matip 
Kostas Tsimikas 
Andrew Robertson
Ben Davies
Rhys Williams
Nathaniel Phillips
Trent Alexander-Arnold
Neco Williams
Midfielders: 
Fabinho
Thiago Alcantara
Jordan Henderson
James Milner
Naby Keita
Alex Oxlade-Chamberlain
Curtis Jones
Xherdan Shaqiri
Harvey Elliott 
Forwards: 
Roberto Firmino
Sadio Mane
Mohamed Salah
Takumi Minamino
Diogo Jota
Divock Origi
First Team Manager: Jurgen Klopp
Assistant Coach: Pepijn Lijnders 
Assistant Coach: Peter Krawietz
First Team Goalkeeping Coach: John Achterberg
Elite Development Coach: Vitor Matos 
Head Of Fitness And Conditioning: Andreas Kornmayer
Club Doctor: Dr. Jim Moxon 
Head Physiotherapist: Lee Nobes
Head Of Nutrition: Mona Nemmer
Academy Director: Alex Inglethorpe
Home and Away Kits 
For the vast majority of Liverpool's history, the home colors have been all red. However, when the club was first founded, the color of the kit was more similar to the contemporary Everton kit with a blue and white design. These kits were used until 1894, when the club decided to opt for the city's color red. 
The city's iconic symbol of the liver bird was adopted as the club's badge in 1901. This, however, wasn't incorporated into the official kit until 1955. Liverpool kept a combination of red shirts and white shorts until 1964, when Bill Shankly, manager at the time, decided to change to an all-red strip. 
The club's away strip has traditionally been all yellow or white shirts with black shorts, but there have been several exceptions. For example, the 1990s saw various color combinations, while more recent away kits have included vibrant blue and purple colors. 
In terms of the badge on the shirt, the city's liver bird had been placed inside a shield in the past. However, in 1992, a new badge was commissioned to celebrate the centennial of the club, including a representation of the Shankly Gates. The following year, twin flames were added to the design to symbolize the Hillsborough memorial. 
In 2012, Warrior Sports' first kit for the club removed the shield and gates on the badge, returning it to what had previously adorned the shirts in the 1970s. The twin flames were also moved to the back collar of the shirt, surrounding the number 96 to remember those who tragically died at Hillsborough. 
Rivalries 
The longest-established rivalry for the club is with fellow Liverpool team Everton, against whom they compete in the Merseyside derby. Other than the geographical proximity, the rivalry stems from Liverpool's formation and the dispute between the then owners of Anfield and Everton officials.
Since the inception of the Premier League back in 1992, the Merseyside derby has seen more red cards than any other Premier League fixture. As such, it's been referred to as one of the most "ill-disciplined and explosive" matches in English soccer. 
Liverpool have another big rivalry with Manchester United. This stems from the competition between the cities during the 19th century Industrial Revolution. Furthermore, both sides have a global fan base and are the most successful English teams in domestic and international competitions.
It's considered one of the biggest rivalries across the world with fixtures between the two sides the most famous in English soccer. Such is the antagonism between Liverpool and Manchester United, they rarely do business with each other, with the last player to be transferred between the two clubs Phil Chisnall in 1964. 
Fun Facts and Records 
Liverpool's record victory is their 11-0 defeat of Stromsgodset in the European Cup Winners' Cup in 1974
The most top flight goals Liverpool have scored in a single league season is 101 during the 2013-14 campaign 
The longest the club have gone without tasting defeat in league soccer is 44 matches (from January 2019 to February 2020)
The most league wins they've recorded in a 38-game season was the 32 they achieved during the 2019-20 campaign