Burnley F.C is a soccer club based in Burnley, a small town in Lancashire based in the North West of England. They play in the top flight of English Soccer, the Premier League, and have retained their position in the league for over 5 seasons. 
For such a small-town club, Burnley has a great reputation with other soccer clubs and fans due to their rich history and passionate following that has led them to become one of the favorite underdogs of the Premier League.
If you're interested in finding out more about Burnley F.C including their history, achievements, players, and also some interesting facts, then keep on reading.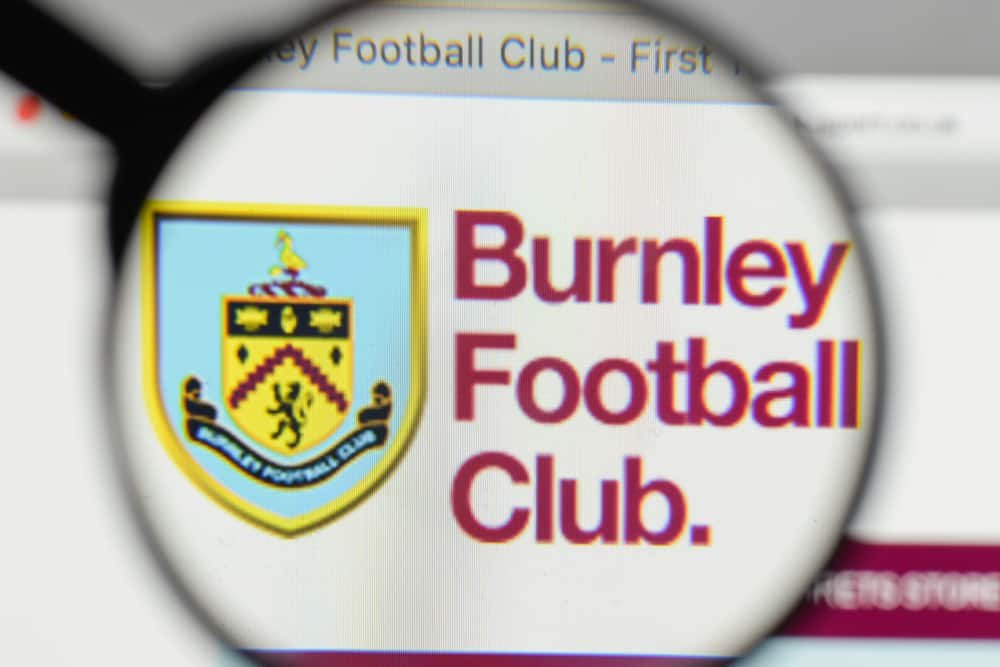 Basic Facts
Location of Burnley: Lancashire, North West England
Founded: 18 May 1882
Nickname: The Clarets
Ground: Turf Moor
Ground Capacity
Club Colors: 21,944
Owner: Alan Pace (ALK Capital)
League: Premier League
Current Manager: Sean Dyche (2012-present)
Current Club Captain: Ben Mee
Home Grounds
Burnley's first and original club premises was the Calder Vale ground and its exact location is still debated to this day.
In 1883, a cricket club invited Burnley F.C to move from Calder Vale to the pitch adjacent to their cricket ground (Turf Moor) where fans would then congregate around the pitch or stand upon a nearby hill to be able to see the game. 
In 1885, Burnley built its first stand at Turf Moor which seated 800 people, a far cry from the built-up stadium that stands there now that holds over 20,000 spectators.
Turf Moor has been Burnley FC's home since 1883 and is the second longest-serving soccer stadium in the English Football League. 
Main Trophies
FA Cup Winners (1913/14)
FA Charity Shield (1960 and 1973)
First Division Winners (1920/21 and 1959/60)
Second Division/Championship Winners (1897/98, 1972/73, and 2014/16)
Third Division Winners (1981/82)
Fourth Division Winners (1991/92)
Lancashire Cup (12 Time Winners)
Club History
Burnley was founded in May of 1888 by members of a local rugby team called Burnley Rovers and was one of the first teams to become a professional soccer side and also one of the 12 founding members of the Football League that was created in 1888. 
Burney's soccer ground Turf Moor was built in 1888 and is the second-longest serving ground that is still being used in professional English soccer. 
Burnley made their first appearance in the FA Cup in the 1885-86 campaign but as professional players were prohibited by the FA during that year, they had to use their reserve side and ended up losing 11-0 to Darwen Old Wanderers.
They have won the Lancashire Senior Cup 10 times and have also been champions of England twice in 1921 and also won the 1914 FA Cup Final. They are also one of only 5 sides to win all 4 divisions of English soccer.
When striker Bob Kelly made a move from Burnley to Sunderland in 1921, he broke the world transfer fee record with a fee of around $7,000 which would be the equivalent to nearly $400,000 in today's money. 
The club now competes in the Premier League, which is the top league of English soccer. Their highest finish in the Premier League was 6th place in the 2017/18 season which gave them qualification to the Europa League. 
Club Timeline
1882: Burnley FC is founded
1883: Turf Moor (Burnley's stadium)
1883: Burnley become a professional soccer club
1885: The club enter the FA Cup for the first time
1885: They become the first professional ground to be visited by a member of the Royal Family
1888: They become 1 of 12 founding members of the Football League
1889: The Clarets win their first Lancashire Cup
1914: Burnley beat Liverpool 1-0 to win the FA Cup
1921: They win the first division for the first time
1960: They win the first division for the second time in their history 
2016: Gains promotion back to the Premier League
2018: Burnley secure their highest finish in the top division and secure Europa League qualification 
2020: Current owners ALK Capital acquire an 84% stake in the club
Club Net Worth
There are no accurate estimations for the net worth of Burnley FC, although we do know that 84% of the club was bought by ALK Capital back in 2020 for $200 million. 
The club is not known for being big spenders in the transfer market and considering they're still residing in their 1884 built stadium, it doesn't look like they've got billions to their name.
A fair assumption would be that Burnley is towards the lower end of the richest clubs in the Premier League, with most of their assets coming from players and their stadium. 
Stadium
Burnley's current stadium is Turf Moor, which has been home to the soccer club since it was built in 1883. The stadium's current capacity is 21,944 and is made up of 4 stands, the Bob Lord stand, the Cricket Field Stand, the James Hargreaves Stand, and the Jimmy McIlroy Stand. 
Owners
Up until 2020, Burnley was run by local businessmen and supporters, however, in the winter of that year, Velocity Sports Partners, an investment arm of the American management firm ALK Capital bought an 84% stake in the club for over $200 million. Alan Pace, who is the managing partner at ALK Capital is now the chairman at Burnley F.C.
It's become very common within English soccer for American and foreign companies to buy or invest in clubs in the hopes of some financial return.
However, Burnley F.C does not sport a huge financial turnover as they're only a small club, so we'd presume that the American takeover is more beneficial for Burnley's sake for them to maintain their position in the Premier League and hopefully progress. 
Best Players
Burnley's best players of all time will always be debated by fans and former players or managers of the club however some of the leading contenders would be Jimmy McIlroy, Leighton James, and Ted McMinn who are all considered legends at the club.
All-Time Top Scorer
Burnley's all-time top goalscorer is George Beel who played for the club between 1923 and 1932 and scored 188 goals during his time there. 
However, in more recent times, none of Burnley's players have come close to breaking their current all-time top goal-scoring record. Robbie Blake who had 2 different spells at Burnley and scored 65 times in total during his time there is the only modern-day player to come close to even challenging for a spot in the top 15 Burnley all-time top goal scorers list. 
Captain
A famous Burnley captain is Colin Waldron who joined in 1967 and became captain within his second season at the club. The defender spent 9 years at Burnley and made over 300 appearances and scored the winning goal against Manchester City in the 1973 Charity Shield. 
Burnley's current captain is Ben Mee, he joined the club on a season-long loan from Manchester City in 2011 and then signed a 3-year permanent contract with Burnley in the January of 2012 for an undisclosed fee.
He has made 300 appearances for the club and scored 9 goals so far and is expected to stay at the club until his contract expires in 2022 unless it gets extended once again. 
Goalkeepers
One of Burnley's most famous goalkeepers is Jerry Dawson who has made the most appearances for the club with 569 games between 1907-1929.
Former goalkeeper Tom Heaton also became the first-ever goalkeeper at Burnley to captain the club permanently and also recorded 20 clean sheets in the league in the season. 
Burnley's current goalkeepers are England International Nick Pope, Welsh International goalie Wayne Hennessey, and Will Norris. 
Other Notable Burnley Goalkeepers:
Alan Stevenson (1973-1983): 543 appearances
Adam Blacklaw (1954-1967): 383 appearances
Marlon Beresford (1992-98 and 2002-03): 350 appearances
Brian Jensen (2003-2013): 310 appearances
Defenders
One of Burnley's most famous defenders is John Angus who played for them between 1955-1972 and also helped them win the Football League in the 1959/60 campaign. He appeared for The Clarets 521 times and also scored 4 goals whilst carrying out his defensive duties on the field. 
In more recent times, Steve Davis, Michael Duff, current club captain Ben Mee are also strong contenders for being the most popular defenders that have been at the club. 
Other Notable Burnley Defenders:
Frank Sinclair (2004-2007): 102 appearances
Kieran Trippier (2011-2015): 185 appearances
Jim Thompson (1968-1981): 364 appearances
Graham Alexander (2007-2011): 177 appearances
Strikers
George Beel and Ray pointer are considered to be Burnley's most prominent strikers who've been at the clubs with both scoring over 100 goals each during their time there.
As of the 21st century, Burnley has had some bold strikers, including Robbie Blake (72 goals), Sam Vokes (64 goals), and Jay Rodriguez (55 goals).
Other Notable Burnley Strikers:
Harry Potts (1937-1950): 181 appearances
Paul Fletcher (1971-1980): 352 appearances
Bob Kelly (1913-1925): 299 appearances
Managers
Sean Dyche (2012-Present)
The current manager of Burnley is Sean Dyche, who has been in the role since he joined in 2012 after a temporary spell as part of the backroom staff for the England national under 21's team. 
Sean Dyche helped Burnley win promotion back to the Premier League in the 2013/13 season with a limited squad and a relatively small budget but sadly returned straight back down to the Championship the following season.
However, the club returned to the top flight of English soccer in the 2015/16 season where they've remained ever since.
In his time at Burnley, Dyche won Premier League Manager of The Month twice, once in March 2018 and again in February 2020. 
He also received a similar accolade for his work with Burnley in the Championship, winning the award in September and October of 2013, April 2014, and finally in February 2016. 
Fans of Burnley will be happy at the success that Sean Dyche has brought during his time there, finishing 7th in the 2017/18 season, which is the best finish in the top flight of soccer since they finished sixth back in 1974. 
Their sixth-place finish also gained them a Europa League qualification which they had not done in 51 years, however, they failed to reach the group stage after being knocked out by Greek team Olympiakos.
Harry Potts (1958-1970 and 1977-1979)
Harry Potts was also another successful manager of Burnley having helped them win the First Division in 1960 and also winning the FA Charity Shield the same year.
In his second spell as manager, he also won the Anglo-Scottish Cup in 1979 after beating Oldham Athletic 4-2 on aggregate. Potts is also Burnley's longest-serving manager as he managed 728 competitive matches.
John Haworth (1910-1924)
John Haworth managed Burnley in the early decades of the 20th century and led them to an FA Cup trophy after beating Liverpool 1-0 in 1914 and then championing the First Division in 1921. 
Coach
Sean Dyche is the manager of Burnley which could be considered as the role of Head Coach as well, however, a manager gets more say and control over staff, players, and player transfers and contracts. 
Assistant Coach
Sean Dyche's assistant manager is Ian Woan who linked back up with his former management partner who previously spent time together at Watford. 
Home Kit
The Burney colors are considered to be burgundy (claret), light blue, yellow, and gold, however, the home kit is mostly made up of the traditional maroon/burgundy (claret) and sky blue colors with the crest displayed on the left-hand side of the shirt.
The home shirt is paired with white shorts which may have burgundy or light blue detailing somewhere depending on the kit sponsor's design and also the club logo displayed. The white shorts are then worn with white socks which also have either light blue or maroon detailing. 
The home kit's design changes each year depending on the kit sponsor for that season, but the traditional colors are always maintained. 
The goalkeeper will also wear a contrasting bright-colored shirt to stand out from the outfield players.
Away Kit
Burnley's away kit changes in design and colors most seasons depending on what the kit sponsor has chosen. Sometimes their away kit will use the same colors as their home kit (claret and sky blue) but will make the main color sky blue and then the detailing a maroon color to differentiate the two shirts.
However, over the years, kit sponsors have used completely different colors like black, yellow, white, and other colors for their away kit.
Burnley can wear either their home or away kit when playing away against another team depending on what colors the opposing team has for their kit.
However, if the opposing team has the same colors or clashing colors as Burnley's home and away kit, then Burnley will have to resort to wearing their third kit which is made up of a very different color and design (often kit sponsors will make third kit's more interesting).
Logo
2015 – Present
Burnley has one of the most interesting and intricate logos in the Premier League.
Their current emblem changed back in 2009 when they changed it to the crest that was used on the shirts of the Burney team who won the First Division title in the 1959/60 campaign. The change was to celebrate 50 years since this occasion. 
However, in 2015, instead of using Burney's previous motto on the logo that said 'Pretiumque et Causa Laboris' (The prize and cause of our labor) it was changed to display 'Burnley Football Club'.
The intricacies of Burney's logo are contained within a shield-shaped vector that has a light blue background and a yellow border.
Inside the vector is a ribbon that is draped along the bottom that displays 'Burnley Football Club' and there is another vector above that contains a black lion that refers to Turf Moor being the first soccer ground to be visited by a Royal Family member. 
There is a claret zigzag line within above the line which officials claim represents the river Brun which runs through Burnley. The 2 bumble bees represent Burney's busy industrial history and are also a reference to Turf Moor's old Bee Hole End stand. 
The hand in the center of the bees refers to the town's motto: hold the truth. Whilst the stork based at the top of the crest refers to the Starkie family who was very prominent in the Burnley area. 
1886 – 1895
Burnley's first recorded crest was the Royal Arms in 1887, which they wore on their shirt to mark the occasion when Prince Albert Victor visited Turf Moor. They used this crest until 1895 until it was no longer used on the shirt. 
Club Academy 
Burnley F.C has an under 23's and academy teams which is a Category 1 status academy that has the highest quality of coaching, equipment, facilities, and technology for players.
Category 1 is the best rating you can have and is extremely hard to achieve but reaps good rewards as it is a massive attraction for new young players. 
Burnley is not a soccer club known for spending huge amounts of money in the transfer market and pride themselves on investing a lot of their money and time into scouting young talent and nurturing them in their academy in the hopes they'll progress to the first team and stay at the club.
The academy has produced some valuable players over years some of which are still at the club playing first-team soccer, such as Jay Rodriguez.
Notable Burnley Academy Graduates:
Leighton James
Brian Flynn
Ray Pointer
Adam Blacklaw
John Angus
Mike Phelan
Lee Dixon
League Titles
Burnley won the First Division in the 1920/21 and 1959/60 campaigns
They won the Second Division (Championship) in 1897/98, 1972/73, and the 2015/16 season
They won the Third Division in the 1981/82 season
They won the Fourth Division in the 1991-92 season
Other Titles
Burnley were Championship Play-off final winners in the 2008/09 season which saw them gain promotion to the Premier League
They won the Third Division play-off final in the 1993/94 season to regain a position in the Second Division. 
Fun Facts
Burnley used to have the record for the longest unbeaten run in  league history in 1921, having gone 30 matches without a defeat until the record was broken by Arsenal in the 2004/05 season
Burnley's mascot is a bee named Bertie
Burnley's claret and the blue kit was inspired by the great Aston Villa team of 1910
Turf Moor was the first professional soccer ground to be visited by a member of the Royal Family when Prince Albert visited in 1886